Truck Accident Frequently Asked Questions (FAQs)
The Skilled Personal Injury Attorneys of Blume Forte Fried Zerres & Molinari Answer Frequently Asked Questions About New Jersey Truck Accidents
Thousands of people lose their lives and hundreds of thousands more sustain non-fatal injuries in truck accidents every year. Once in motion, trucks are very difficult to stop. It is not uncommon for truck accidents to lead to catastrophic injuries and cause extensive property damage – all at a significant cost to innocent bystanders and other victims. It is no wonder then that there are so many out there with truck accident frequently asked questions.
The trucking industry is heavily regulated. If you were the victim of a truck accident, you may have grounds for a truck accident claim for damages. Contact Blume Forte Fried Zerres & Molinari's truck accident team today for a free case evaluation.
FAQ: What are the most common types of truck accidents in New Jersey?
Common truck accidents include the following:
Rollovers: These typically occur when a vehicle – usually a high or top-heavy vehicle – strikes an object on the road or turns too quickly and rolls over.
Jackknifes: These occur when the cab of a truck swings toward the trailer. There is little a truck driver can do to control his or her vehicle in a jackknife situation.
Frontal and rear-impact collisions.
Underride and undercarriage accidents in which smaller vehicles become lodged underneath a truck.
Intersection, parking lot, and sideswipe accidents in which a truck strikes unsuspecting vehicles or pedestrians or executes maneuvers without ensuring that it is safe to do so.
Vehicle malfunctions such as failed brakes or a tire blowout can lead to an accident, as can cargo that comes loose while a truck is in motion on the road.
FAQ: What is considered a commercial truck?
Various types of trucks are classified as commercial vehicles, including 18-wheelers, tractor trailers, garbage trucks, dump trucks, flatbeds, and cement mixers. Certain kinds of larger versions of "consumer" or "personal" trucks, like the Ford F-series or Chevrolet Silverado, may also fall into the category of a commercial vehicle.
FAQ: What are the major causes of truck accidents in New Jersey?
According to the Federal Motor Carrier Safety Administration (FMCSA), most truck accidents are caused by some form of driver negligence. Negligence includes speeding, drinking and driving, distracted driving, drowsy driving, and driver inexperience. Other factors that can increase the likelihood of an accident occurring include inclement weather, poor lighting, inadvertent driving mistakes, vehicle malfunctions, slick or slippery roads, and missing or damaged traffic control devices and/or signals.
FAQ: What should I do at the scene of a truck accident?
If you've been involved in a truck accident, you should call 911 if you or somebody else has been hurt. If no one was hurt, you can contact the local police department, or the state police if the accident takes place on a freeway. Next, be sure to collect the name, contact information, employer information, and vehicle registration information from the truck driver, along with contact and insurance information from any other motorists involved in the accident. If possible and safe to do so, try to photograph the accident scene and damage to the vehicles involved; also photograph any visible injuries you may have suffered. Make plans to see a doctor for a physical exam as soon as possible after the accident. Also, you should notify your insurance company about the accident as soon as possible, so that you remain eligible for coverage under your policy. Finally, you should contact Blume Forte Fried Zerres & Molinari for a free consultation to discuss the details of the accident and to learn more about your legal rights and options for pursuing financial compensation.
FAQ: I don't feel like I was seriously hurt after my truck accident. Should I see a doctor?
The shock of an accident can cause an adrenaline rush that masks pain from injuries you suffered in an accident. Other injuries can take days or even weeks to begin causing you pain or other symptoms. However, a doctor might be able to diagnose those injuries in a physical exam. Promptly identifying your injuries not only allows you to more quickly begin your treatment but also to affirmatively establish that those injuries were caused by the truck accident and were not, as an at-fault party might try to claim, pre-existing injuries or caused by something else.
FAQ: Who may be liable for a truck accident in New Jersey?
Every truck accident is unique, but in most cases, one or more of the following parties may be at fault for your truck accident.
A truck driver
The owner or operator of a truck or a fleet of trucks
A trucking or transportation company
A vehicle services or maintenance provider
A truck manufacturer
Government or municipal offices responsible for road upkeep and maintenance
A truck driver may be responsible for an accident caused by negligence such as drunk or reckless driving. However, a truck company may be at fault if inadequate driver training or poor applicant screening caused or contributed to your accident. Municipal offices may be at fault for your accident if, for example, damaged roads or malfunctioning traffic control devices were a contributory factor in your accident.
FAQ: What are truck accident settlements worth in New Jersey?
The answer to this depends on the extent of your losses. In most cases, a settlement should cover the costs of your treatment and other relevant losses such as lost income, property damage, and pain and suffering. Your insurance limits, the coverage held by the at-fault party, and whether the court decides to include punitive damages as part of your settlement also come into play.
FAQ: Should I talk to representatives from the trucking company or from an insurance company after an accident?
You should always decline to speak with insurance adjusters or representatives or attorneys from the trucking company before you have had the chance to speak to a truck accident attorney of your own. Those individuals are looking for you to give a statement they can later use to argue against your claim for compensation. When you have a truck accident attorney, if you are contacted by these parties you should always refer them to your lawyer, who can handle all communications on your behalf.
FAQ: How are truck accidents different from other motor vehicle accidents?
Although car accidents occur more frequently than truck accidents, the fatality rate of truck accidents is much higher than that of car and other vehicle accidents. Per incident, truck accidents cause more damage and injuries than car and other motor vehicle accidents.
Truck accidents are different from car accidents in other important ways as well. Consider the following:
Trucks and trucking companies are usually required to carry a lot more in insurance coverage than cars and other passenger vehicles.
Accidents involving trucks usually involve more than two vehicles.
Although truck drivers typically have more driving experience and must meet more stringent licensing requirements than drivers of other vehicles, a truck accident – in part because of the size of the vehicle – is more likely to lead to a fatality. These facts have been corroborated by a National Highway Traffic Safety Administration (NHTSA) study that found that large truck drivers who were involved in an accident in the past were more likely than other road users to be involved in a crash, even though large truck drivers are less likely to have had a license suspension in the past or to drink and drive.
FAQ: How can I prove negligence for a truck accident in New Jersey?
To successfully file and win a truck accident claim, you must demonstrate the following:
That the at-fault party responsible for your accident owed you a duty of care of driving responsibly and in accordance with all applicable rules and laws.
That the at-fault party – whether a truck driver, a truck owner, a truck company operator, a service team, or otherwise – somehow did not fulfill the duty of care they owed you.
That this breach of the duty of care resulted in an accident.
That the accident led to physical, financial, mental, emotional, or other damages that you otherwise would not have suffered.
FAQ: By when must I file a claim for personal injuries after a truck accident in New Jersey?
You typically have two to three years to file a claim for accident-related personal injuries in New Jersey. If you miss your filing deadline, you effectively lose the right to file a claim. It is best to speak with an attorney and initiate the claims process as soon as possible. It takes time to gather evidence and build a case, and evidence can be lost the longer you wait to file. You will likely have to pay out-of-pocket for treatment and repair costs – if any – during this time as well.
FAQ: Do I need an attorney to pursue a truck accident claim?
Although you are entitled to pursue a truck accident claim on your own, not hiring an attorney for your case makes it more likely that you will not receive the maximum compensation you are entitled to. Trucking companies and insurers will use every tactic to pay as little money as you are willing to accept, including claiming that a small settlement is the most they are willing to offer or trying to argue that you bear some or all the blame for the crash. An experienced truck accident attorney will expect these tactics and will know how to push back to ensure you are fully compensated.
FAQ: When should I hire an attorney after a truck accident?
You should speak with a truck accident attorney as soon as possible after a crash. An attorney can review the facts and circumstances of your case to advise you as to whether you may have a viable claim to compensation. The sooner you hire an attorney or law firm, the more quickly your attorney can begin investigating your case and filing claims for compensation with the at-fault parties and their insurance companies.
FAQ: How do I choose the right truck accident attorney for me?
You may have many truck accident lawyers to choose from in your case, but a good attorney will be highly experienced in handling truck accident cases and successfully obtaining financial recovery for clients. At Blume Forte Fried Zerres & Molinari, we have more than 70 years of experience helping injured accident victims like you. Our firm also has the resources to thoroughly pursue your case, and our attorneys are well-versed in state and federal laws governing motor vehicle accidents and the trucking industry.
FAQ: What if I can't afford to hire an attorney?
With Blume Forte Fried Zerres & Molinari, you never have to pay upfront fees to hire our firm to help you with your truck accident claim. We offer all prospective clients a free consultation. And if we take on your case, we do so on a contingency fee basis. This means you owe nothing for us to handle your case; we get paid if and when we recover compensation on your behalf, with our fee being an agreed-upon percentage of your total recovery. That way, you can trust we are working to secure the maximum compensation available to you.
FAQ: Do I have a claim if a family member was killed in a truck accident?
Yes. If you and your family have a loved one who died from a truck accident that wasn't their fault, your family may be entitled to bring a wrongful death claim against the party or parties at fault for the crash to recover compensation for your loved one's and your family's losses. Although no amount of money can bring a family member back, it can help provide your family with a measure of justice.
FAQ: Can I still file a claim if I was partially at fault for the accident?
Yes. New Jersey law follows a modified comparative negligence system. Under this system, an injured accident victim partially at fault from the crash can still recover compensation from another at-fault party so long as the injured party's share of fault is not greater than the share of responsibility from whom damages are sought. Your total recovery will also be reduced to reflect your share of fault for your injuries. For example, if you suffer $100,000 in losses from a truck accident that both you and the truck driver bear fault for, and you are determined to have been 20 percent at fault for the accident, your compensation will be reduced by $20,000 to reflect your share of responsibility.
Contact Blume Forte Fried Zerres & Molinari For Answers to More of Your Truck Accident Frequently Asked Questions as Well as Legal Guidance Regarding Your Accident Claim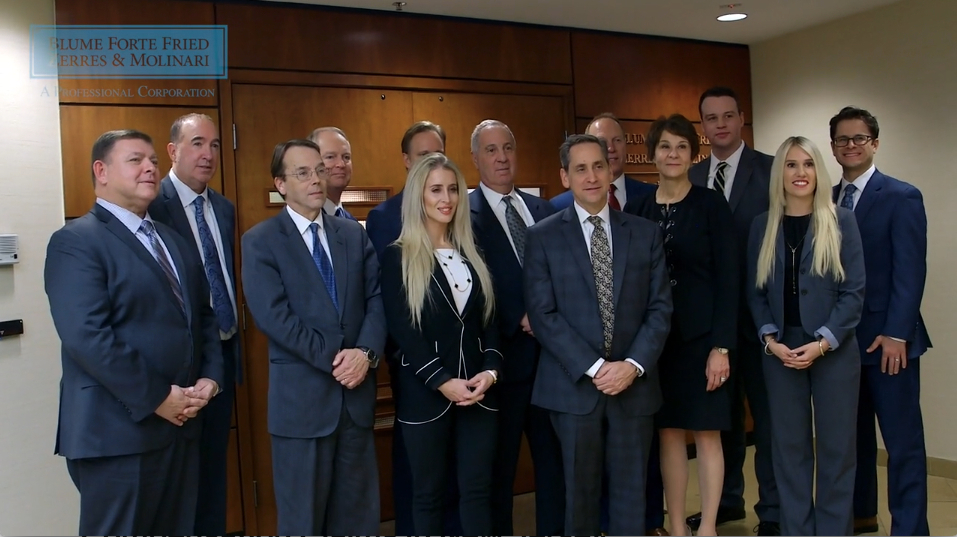 If you or a loved one suffered injuries in a truck accident in New Jersey, contact our firm today for a free initial consultation. We will answer all of your truck accident frequently asked questions and will walk you through everything you need to know about your case. From the kinds of evidence needed to build a case and how to evaluate your damages, to making sure that we file within the applicable statutes of limitations. Do not hesitate to reach out to us today.