New Jersey Catastrophic Injury Lawyer
Legal Representation After a Life Changing Injury
Every injury affects your life, but some injuries can leave you with a long medical recovery and life-long impact. These injuries are called catastrophic injuries. Many of these types of injuries result in the loss of movement, feeling in the body, and problems with communication and cognitive abilities.
For years, the New Jersey personal injury lawyers at Blume Forte Fried Zerres & Molinari have aggressively fought for people who have suffered catastrophic injuries. We understand that an injury doesn't just affect the person who got hurt, but their entire family. We're ready to fight for the rights of injured people. This is why anyone involved in a serious injury accident needs to contact our firm.
We can be reached at 973-845-4421.
What Is a Catastrophic Injury?
Catastrophic Injuries, legally, are considered any injury that permanently prevents a person from performing any gainful work. This means that any injury that leaves a person suffering from permanent disability is a catastrophic injury. Many of these injuries are related to injuries to the brain or spine. Catastrophic injuries can put serious stress on a victim and their family because they may have large medical bills and no ability to go back to work.
Causes Of Catastrophic Injury
Over the years, we have seen many causes of catastrophic injuries. These are the most common causes of these injuries:
If the catastrophic injuries are caused by the negligent or reckless actions of another person, a personal injury claim can be brought. A lawsuit against the responsible party can hold them accountable for your damages and losses.
Common Types Of Traumatic Brain And Spinal Injuries
Most catastrophic injuries are injuries to the brain and spine. Specific brain injuries can include:
Hemorrhaging
Cerebral contusion (brain bruises)
Skull fracture
Concussion
Hypoxic brain injury (lack of oxygen to the brain)
The symptoms of a serious brain injury include vomiting, nausea, and dizziness. In more severe cases, a brain injury can leave a victim in a coma or even dead.
Spinal cord injuries are damage to the neck, back, hips, or tailbone. Symptoms of these injuries don't always show themselves immediately. But, you should be on the look out for chronic back pain, neck pain, numbness, walking trouble, and muscle spasms.
"Words cannot express how tremendously grateful I am to Jeff Zenna for his sincere compassion and legal assistance during one of the most challenging times in my life."
"I just wanted to take some time to thank you and your team for all your help in the last 3 1/2 years. Your confidence, professionalism, knowledge, and efficiency in resolving this case have been greatly appreciated by my family and I. "
"You exhibited a genuine caring for my predicament and the outcome. These are all qualities that are prized in any professional relationship."
Compensation For a Catastrophic Injury Claim
Damages in a New Jersey catastrophic injury claim comes in two forms: compensatory damages and punitive damages. Here is the difference between the two:
Compensatory Damages: this includes compensation for medical treatments, surgeries, rehabilitation, and future medical bills. You can also pursue income for lost wages and lost possible future wages, along with compensation for your property damage, emotional distress, and pain and suffering.
Punitive Damages: this is compensation that's awarded in cases where the person who injured you was acting especially careless or reckless, or if they caused the injury on purpose. Punitive damages are meant to punish those actions and deter them from happening again. In New Jersey, punitive damages are capped at $350,000, or five times what the compensatory damages are (whichever amount is higher).
Contact a New Jersey Catastrophic Injury Lawyer At 973-845-4421 Today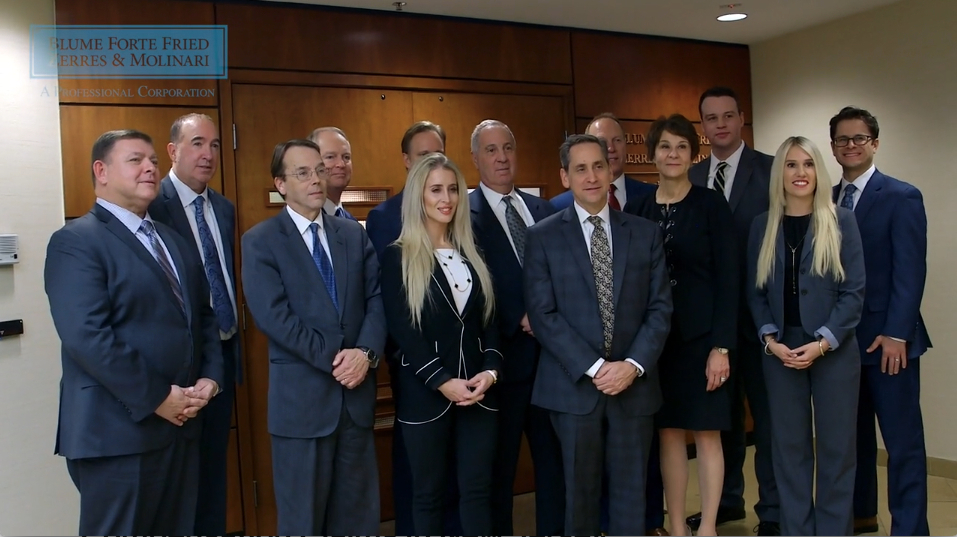 Blume Forte Fried Zerres & Molinari is here to help you and your family through this tough time. We've been there for many New Jersey families. Let us do the same for yours. Contact a skilled New Jersey catastrophic injury lawyer today at 973-845-4421.
Frequently Asked Questions About New Jersey Catastrophic Injuries
How much does it cost to hire a catastrophic injury lawyer?
The lawyers at Blume Forte work on a contingency basis. They only get paid if there is a favorable outcome for your case. The attorney will take a percentage of what is awarded to you. This means you won't have to worry about paying anything upfront, and it also aligns your lawyer's goal with your goal: to get the most money for your claim.
Our firm also offers a free initial consultation to discuss your claim.
What to do when a catastrophic injury happens to you?
There is a wide range of accidents that can cause a catastrophic injury. Seeking immediate medical attention is the most important step you can take. Delaying treatment can lead to an even more severe injury. If someone's recklessness or negligence was the cause of your injuries, contact an experienced personal injury lawyer to represent you.
What is the average catastrophic injury case worth?
The amount your case is worth will be dependent on your damages. The damages from a catastrophic injury can be significant due to the fact most people are left with a permanent disability. There are two kinds of damages associated with catastrophic injury.

Compensatory Damages:
– medical treatments
– surgeries
– rehabilitation
– future medical bills

Punitive Damages:
– the person who injured you was acting recklessly
– they caused the injury on purpose

For the most accurate estimate of your case contact a knowledgeable catastrophic injury attorney to discuss your case.

Additional Information