Causes of Truck Accidents in New Jersey
Dedicated Personal Injury Attorneys Represent Clients Injured in Trucking Accidents Throughout New Jersey
The complex nature of commercial trucks and the trucking industry requires that truck operators exercise a great deal of care and skill in the course of their jobs. Unfortunately, this also means that there are plenty of opportunities for carelessness by someone involved in the trucking industry to cause a catastrophic accident. These common causes of truck accidents in New Jersey often leave innocent victims with debilitating and long-lasting injuries and potentially devastating financial losses.
At Blume Forte Fried Zerres & Molinari we believe that you shouldn't have to bear the financial burdens of injuries and losses you sustained in an accident that wasn't your fault. That's why our New Jersey truck accident lawyers work hard to help our clients recover from truck accidents. We know that a truck accident can leave you in a state of shock, and long term you may end up focused on your medical treatment and on getting back to work and to your normal life. Let our attorneys go to work on your behalf pursuing maximum compensation for you from the at-fault trucking companies and their insurers. Our legal team has the experience and resources to thoroughly investigate and aggressively pursue even the most complex truck accident cases. No matter how straightforward or unclear the causes of a truck accident may seem, we won't rest until we've gotten to the bottom of what happened in the accident that injured you and identified those parties who can be held legally responsible to compensate you.
Contact us today for a free consultation to discuss the details of your case and to go over the next steps in the process of pursuing compensation for your injuries and losses.
Common Causes of Truck Accidents in New Jersey
Trucking in New Jersey is heavily regulated by the state government and by regulations issued by the Federal Motor Carrier Safety Administration, which are intended to ensure that commercial trucks safely share the roads with other vehicles, bicyclists, and pedestrians. When truck driver and trucking industry companies fail to follow these laws and regulations, they put everyone at risk of a catastrophic truck accident. Some of the most common causes of truck accidents in New Jersey include:
Improper, inadequate, or deferred vehicle maintenance
Driver carelessness, including speeding, unsafe lane changes and turns, and tailgating
Drowsy or fatigued driving, often caused when drivers exceed their regulatory hours-of-service limitations
Intoxicated driving
Improper cargo loading, including overloading a vehicle, packing an unbalanced load (such as loading a truck top-heavy), or failing to secure cargo from shifting while the truck is in motion
Lack of driver training or experience on particular truck types
Driving in a manner unsafe for adverse weather conditions
When a truck accident results from another party's avoidable errors, you deserve to seek financial recovery from that party.
"Words cannot express how tremendously grateful I am to Jeff Zenna for his sincere compassion and legal assistance during one of the most challenging times in my life."
"I just wanted to take some time to thank you and your team for all your help in the last 3 1/2 years. Your confidence, professionalism, knowledge, and efficiency in resolving this case have been greatly appreciated by my family and I. "
"You exhibited a genuine caring for my predicament and the outcome. These are all qualities that are prized in any professional relationship."
Results-Focused Lawyers at Blume Forte Fried Zerres & Molinari Fight to Protect Clients' Rights and Interests Throughout the Truck Accident Claims Process
The injuries and financial burdens that you suffer due to these common causes of truck accidents in New Jersey – which aren't your fault – are unfair. Having to fight to get compensation from those at fault for your losses from these types of accidents only makes the process that much more difficult. At Blume Forte Fried Zerres & Molinari, our truck accident attorneys assume all the hard work of pursuing your legal claim against those at fault for the accident and your injuries, so that you can focus your time and energy on your recovery and getting back to normal life after the accident.
You only have a limited time to bring your claim after a devastating truck accident, which is why our legal team gets to work quickly in your case to ensure that we secure and preserve all the critical evidence to prove your right to compensation. In our decades worth of combined experience representing injured accident victims, we've seen the lengths insurance companies go to minimize their liability for a truck accident. That's why we've built a reputation of never backing down until our clients get the recovery they deserve, and have accumulated a track record of success in the courtroom when going to court and to trial in our clients' cases becomes necessary.
Contact Our Firm Today for a Free Consultation with a Knowledgeable Truck Accident Attorney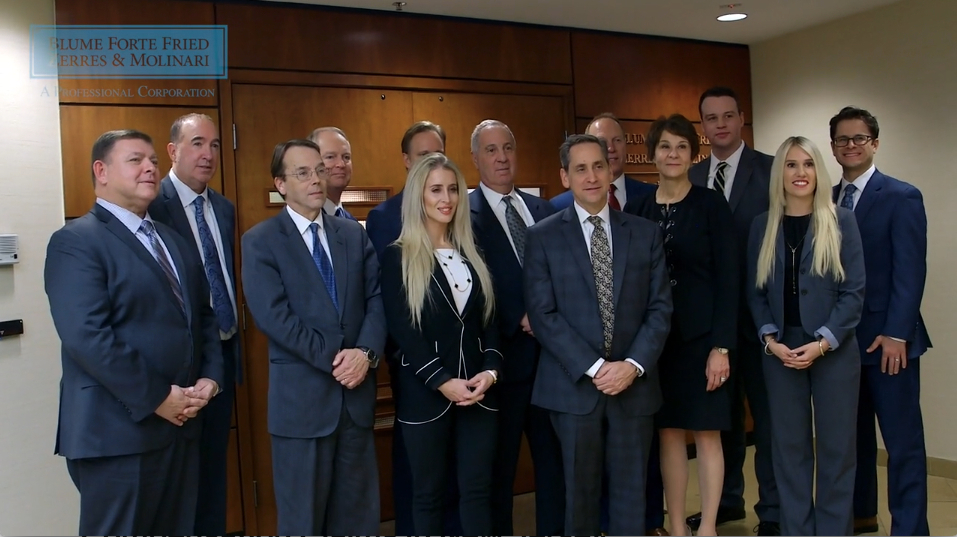 Don't delay seeking financial compensation after being injured in a catastrophic truck accident that was caused by someone else's actions or legal fault. Contact Blume Forte Fried Zerres & Molinari today for a free, no-obligation case evaluation to discuss your legal rights and options following the accident and to learn more about how having our experienced attorneys in your corner can help you to get fair and full compensation for the harm you've suffered.
Frequently Asked Questions about Truck Accidents in New Jersey
What happens if I was partially to blame for the accident?
New Jersey following a modified comparative negligence rule in accident cases. Under this rule, an injured party is not barred from bringing a claim for compensation, so long as the share of fault of the injured party does not exceed the fault of the party from whom compensation is sought. In a truck accident where both you and the truck driver were at fault, you can still bring a claim as long as you were not more than 50 percent responsible for the crash and your injuries. However, the compensation for your total losses will be reduced by your share of fault. For example, if you suffered $100,000 in losses in a truck accident that you were 30 percent for, your compensation will be reduced by $30,000 to reflect your share of responsibility.
Who can be held liable for a truck accident?
The complex nature of the trucking industry means there are many parties that may be responsible for causing a truck accident or may share some of the fault for a crash, including the truck driver, the trucking company, the truck's owner (if different from the driver or trucking company), the freight company, the maintenance company for the truck, the truck's manufacturer, or a manufacturer of a part used in the truck.