New Jersey Scooter Accident Lawyers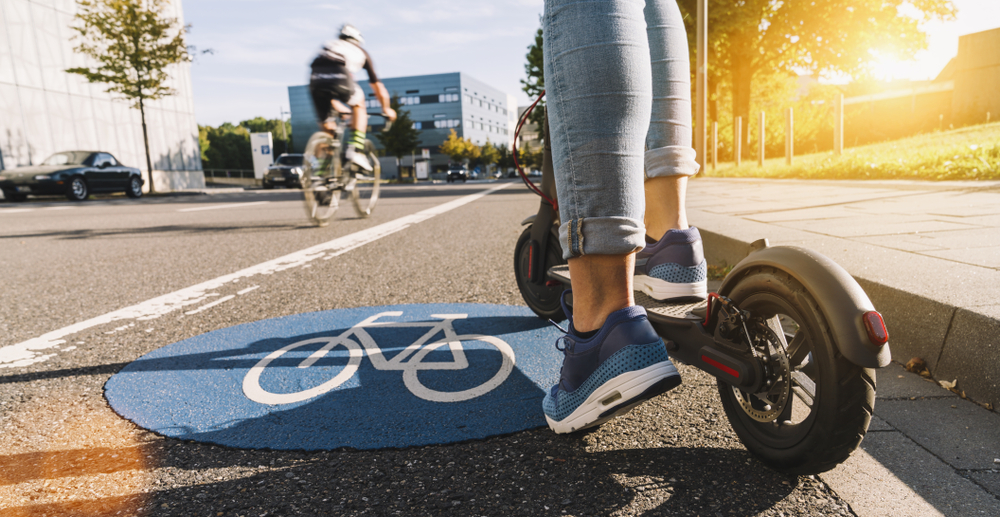 Dedicated E-Scooter Injury Attorneys in Chatham, NJ Capably Handle Scooter Accidents and Personal Injury Cases for Clients in Morris County, Hudson County, Somerset County, Union County, and Throughout New Jersey
Electric scooters have quickly become a fun and inexpensive way for people to get around. Their safety has long been in question, however, and if the data is anything to go by, using an e-scooter can place the user and others at serious risk. If you were injured in a scooter accident in New Jersey, you may have grounds for filing an e-scooter personal injury claim. The well-respected and experienced New Jersey scooter accident lawyers at Blume Forte Fried Zerres & Molinari can help you fight for the compensation you deserve so that you can cover medical bills, lost income, and other accident-related losses and damages.
You, E-Scooters, and New Jersey State Law
The US Consumer Product Safety Commission found that there were almost 200,000 emergency room visits for injuries sustained because of micro-mobility products such as e-scooters between 2017 and 2020. Emergency room visits rose steadily at a staggering 70% rate from 34,000 cases in 2017 and 44,000 cases in 2018 to 55,000 cases in 2019 and almost 58,000 cases in 2020. Similar figures have been reported by the CDC, which has also raised concerns about the fact that most companies are not obligated to offer helmets automatically to users when an e-scooter is rented out, opening the door to countless types of injuries.
Common injuries seen in e-scooter accident cases include:
Head, neck, and back injuries
Nerve damage
Broken wrists
Ankle injuries
Arm and leg injuries
Road rash
Spinal cord injuries
Internal and external bleeding
Organ damage
Reports show as many as 71 fatalities related to e-scooters and micro-mobility products of different kinds between 2017 and 2020 as well.
As is true for any new development that affects the general public, legislators are quick to develop laws that govern the new change. E- scooters are no different, and New Jersey's transportation and mobility laws apply to low-speed electric scooters that are usually defined as scooters with handlebars, floorboards that the user can stand on, and electric motors that propel the device with or without human contribution. Many of these laws can be found in NJ Rev Stat § 39:4-14.16 (2019), which is the New Jersey motor vehicles and traffic regulation code on the operation of low-speed electric bicycles and scooters.
Unfortunately, not all laws apply all the time, and the laws that govern motor scooter travel can vary from place to place and from one county or municipality to the next. For example, one law enacted in 2019 allows scooters to be operated on streets, highways, and bicycle paths but not on unpaved paths. The law also prohibits people from riding motorized scooters on state roads.
Furthermore, your ability to win a case will depend on several additional factors, such as:
The size of your e-scooter
The top speed of your e-scooter
Whether you have insurance for your e-scooter
When and where you were riding your e-scooter
Your age
Whether you were wearing an approved helmet as per New Jersey's DMV
You must learn about the regulations where you live before filing an e-scooter injury claim or pursuing compensation of any kind for your accident. Our experienced e-scooter injury attorneys in Chatham, NJ will help you understand the law, gather evidence, and file a claim for the compensation and damages that you may be owed for your injuries and losses.
Compensable Damages Our New Jersey Scooter Accident Lawyers Can Help You Recover
We will work to show that the at-fault party was responsible for your e-scooter accident. We will gather evidence, interview witnesses, and obtain police reports to build a strong case in your favor. We only collect if you win, and some of the damages you can potentially recover in a scooter accident case in New Jersey include:
Compensation for property damage
Medical expenses
Lost wages (current and future)
Non-economic damages to cover pain, suffering, disfigurement, disabilities, and the loss of enjoyment of life
Contact Our E-Scooter Injury Attorneys in Chatham, NJ Today for the Best Chance at Winning the Compensation You Deserve
Our New Jersey scooter accident lawyers are ready to handle all of the legal and insurance aspects of your e-scooter injury case. We have extensive knowledge of New Jersey's motor scooter accident laws and are empathetic attorneys as well as highly capable litigators. Contact us today for assistance with your scooter injury claim.
Frequently Asked Questions About E-Scooter Injuries in Chatham, NJ
Whom may I hold responsible for my accident?
It depends on how your accident occurred. A speeding motorist, someone following you too closely on the road, or a manufacturer that produced a faulty or dangerous scooter can all be held liable to various degrees for your e-scooter accident. Winning your case will come down to correctly identifying the at-fault party, identifying the relevant insurer, quantifying your damages, and negotiating a settlement (or fighting for fair compensation via courtroom trial). Our New Jersey scooter accident lawyers and our skilled e-scooter injury attorneys in Chatham, NJ have the experience, knowledge, and dedication to see your case through to the end and to ensure that you are fully and fairly compensated for your scooter accident losses.
What e-scooter regulations will apply to my case?
As mentioned above, New Jersey's motor vehicles and traffic regulation code on the operation of low-speed electric bicycles and scooters is contained in NJ Rev Stat § 39:4-14.16 (2019). This statute provides important definitions, categorizations, and rules that will apply to any scooter-related accident. Other relevant facts are that even though you do not require a license to operate an e-scooter, you can only operate one at a speed of 19 mph or lower. Scooters are governed by New Jersey's bike laws, and scooters with an engine capacity of 50cc or higher (or its equivalent, depending on the situation) are classified as motorcycles. Our New Jersey scooter accident lawyers can help you navigate these laws and better understand your situation so call our e-scooter injury attorneys in Chatham, NJ today for assistance with your case.