New Jersey Personal Injury Lawyer
Call Blume Forte at 973-845-4421 If You've Been Hurt in an Accident
If you or a loved one has suffered a personal injury, you may have a number of questions and concerns:
Who will help pay your medical expenses?
How will you make up for lost work time and income?
If you need a lengthy recovery time, how will you cover your day-to-day expenses?
When someone suffers a personal injury, it takes a severe physical, emotional, and financial toll not just on the victim, but also on their family members.
An experienced New Jersey personal injury lawyer at Blume Forte Fried Zerres & Molinari have successfully handled many personal injury cases. We are passionate in the pursuit of justice for our clients. If you or a loved one has been injured due to the negligence or wrongdoing of another, contact us for a no-cost consultation and comprehensive evaluation of your potential injury claim. Call us today at 973-845-4421.
Protecting Your Rights After an Injury in NJ
Regardless of how or where you suffered an injury — be it a car accident, slip-and-fall accident, medical malpractice, or because of a defective product — there are a number of steps you can and should take after the injury to ensure that your legal rights and best interests are protected.
First and foremost, you should report the incident and injury, creating clear documentation of what happened. For example, if you have been involved in an auto accident, file a police report. If you slipped and fell in a supermarket aisle, be sure to file a complaint with the store manager. Always get copies of these reports for your own files.
Make sure to get prompt medical attention. Do it even if you "feel fine" after the incident. A number of injuries suffered in accidents may not surface for days or even weeks after the incident. Getting timely medical treatment and care for your injuries is crucial to a quick and complete recovery. It also helps document your injuries and the treatment you received for them.
Gathering evidence from the scene is also critical. A picture is worth a thousand words. Take photographs of the scene where the incident happened, as well as of your injuries. Get contact information for all parties involved, like those who witnessed the incident. If you were injured by a defective product, save what is left of the product so that it can be tested by experts for defects, malfunctions, and design flaws. Save all receipts and invoices for expenses you may have incurred as a result of the accident and injury.
"Words cannot express how tremendously grateful I am to Jeff Zenna for his sincere compassion and legal assistance during one of the most challenging times in my life."
"I just wanted to take some time to thank you and your team for all your help in the last 3 1/2 years. Your confidence, professionalism, knowledge, and efficiency in resolving this case have been greatly appreciated by my family and I. "
"You exhibited a genuine caring for my predicament and the outcome. These are all qualities that are prized in any professional relationship."
Contact An Experienced NJ Personal Injury Lawyer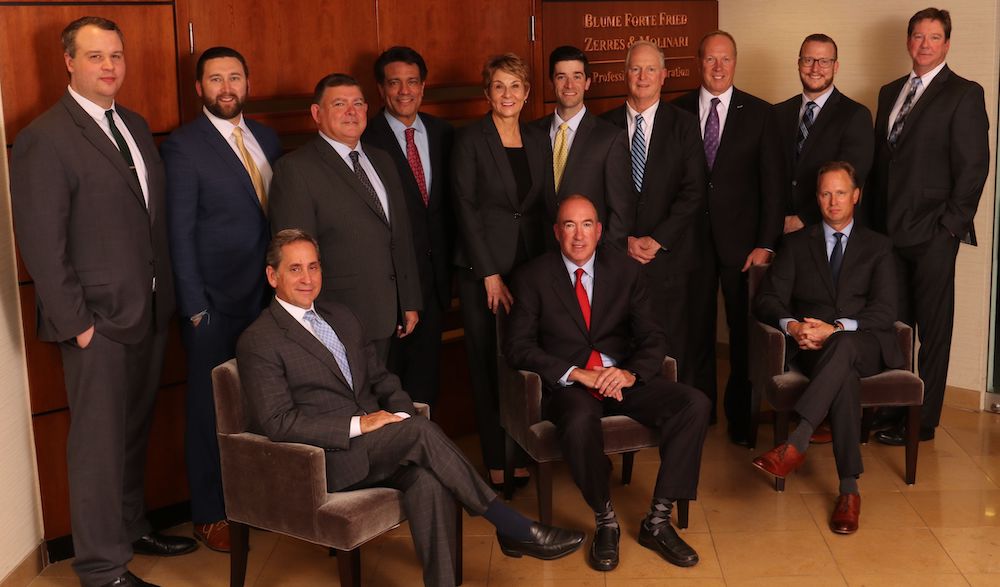 It's important that you contact an experienced New Jersey personal injury lawyer who will remain on your side, fight for your rights, and help ensure that you receive maximum compensation for all your injuries, damages, and losses. At Blume Forte Fried Zerres & Molinari, we understand the challenges that injured victims and families face in the aftermath of a traumatic event. Our injury lawyers provide quality legal representation and compassionate care to all clients.
Call us at 973-845-4421 for a no-cost, comprehensive consultation.
Personal Injury FAQs
Accidents do happen. When you or someone you care about suffers an injury, what are your legal rights?
WHAT RIGHTS DOES AN INJURED PARTY HAVE IN NEW JERSEY?
In New Jersey, after someone is hurt or harmed, he or she may be eligible to recover costs (known as damages) from the person responsible for the situation that led to those injuries.
WHAT IS NEGLIGENCE AND WHAT ROLE DOES IT PLAY IN NEW JERSEY?
At its essence, negligence is the failure to meet the appropriate standard of care or act as a reasonable person should under the circumstances.
WHAT MUST AN INJURED PARTY BE ABLE TO PROVE IN ORDER TO SEEK DAMAGES?
In order to bring a lawsuit in New Jersey for personal injuries caused by the negligence of another person, a claimant is required to prove:

1. That the person who caused the incident giving rise to the injuries owed the claimant a duty of care. This can be, for example, the driver of another vehicle in a motor vehicle accident, a property owner or occupier in a premises liability or slip and fall accident, or even a medical professional in a medical malpractice case.
2. That the duty of care was breached. This does not mean that the breach was necessarily intentional, just that it occurred.
3. That the breach of the duty of care resulted in the accident that led to the claimant's injuries.
4. And, finally, that the total amount of contributory negligence on the part of the claimant is less than the amount of responsibility on the part of the other party or parties being sued.
WHAT IS CONTRIBUTORY NEGLIGENCE?
The concept of contributory negligence is that the individual who contributed to the accident, if his or her contribution was equal to or greater than the other party, should not be able to recover his or her damages. For example, if we assume that the claimant was intoxicated beyond the legal limit and was driving a vehicle that then crashed because another car made a turn without using his or her turn signal, the claimant would not be able to recover compensation for damages. On the other hand, if the claimant was the one who failed to use a turn signal and was hit by an intoxicated driver, he or she would be able to recover.

In New Jersey, the right to recover has specific limits in terms of what kinds of damages are recoverable based on what kind of case it is. There are also specific time limitations for bringing a personal injury lawsuit in NJ.
ADDITIONAL INFORMATION