New Jersey Construction Accident Lawyer
Construction Site Accident Injuries & Deaths in NJ
Construction sites are some of the most dangerous workplaces in America. Unfortunately, even innocent passersby can be injured if workers and supervisors negligently or carelessly handle construction equipment, chemicals, machines, or tools. Other hazards at construction sites may include falling objects. If you were injured at a construction site, an experienced New Jersey construction accident lawyer can help.
Causes of common construction injuries in New Jersey include:
Falls from scaffolding, roofs, and other heights
Impacts from falling objects
Accidents with machinery or equipment
Inadequate fencing or other security
Exposure to toxic chemicals
Inadequate safety equipment and training
Intrusion of construction equipment into roads and sidewalks
State and federal laws mandate strict workplace safety standards for construction sites, including required protective gear and the regulation of exposure to dangerous chemicals. All too often, those laws are partially or completely ignored. The preventable result of ignoring safety standards can be a life-altering injury or, in the worst cases, a fatality.
If that accident was caused by careless or negligent behavior, you have the right to hold the responsible parties legally liable for resulting damages through a New Jersey construction accident lawsuit. Compensation can be sought for your medical bills, lost wages, and other financial costs of your injury, your physical pain, emotional anguish, permanent disability, or wrongful death. If you're a construction worker collecting workers' compensation payments, you may still be able to commence an action against an employer, subcontractor, or the maker of faulty equipment responsible for its role in your accident.
The law firm of Blume Forte has decades of experience assisting injured people in New Jersey in securing financial compensation for their injuries. In just our last five years of practice, we've obtained more than $320 million in verdicts and settlements for our clients. We specialize in cases involving substantial and complicated medical issues. Most of our attorneys hold a special professional Certification as Civil Trial Attorneys from the Supreme Court of New Jersey. We have 15 attorneys in four offices and the resources to take on any case, no matter how big or small.
If you were injured through no fault of your own at a construction site in New Jersey, contact Blume Forte today at 973-845-4421 for a free case evaluation with an aggressive NJ personal injury attorney.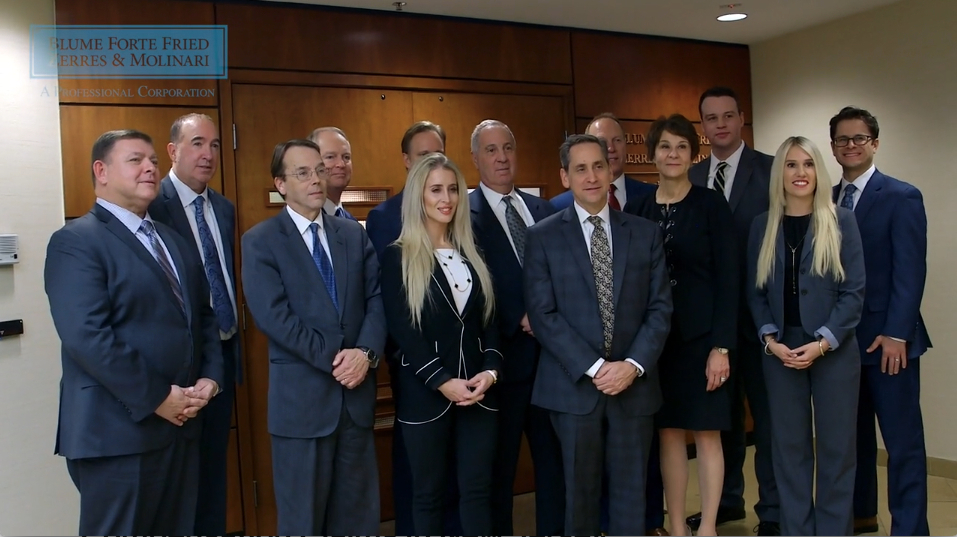 Frequently Asked Questions About New Jersey Construction Accidents
How much does it cost to hire a construction accident lawyer?
The initial consultation to go over your case is free. The attorney will discuss if your case is likely to win if brought to trial. Our attorneys work on a contingency basis. If your case wins in a trial the attorney will collect a percentage of what you are awarded. Contact a Blume Forte construction accident lawyer to learn more about other fees and costs associated with hiring a lawyer.
What to do when you are injured in a construction accident?
The first thing you should do after being injured is to seek medical attention. Having proof of your injuries is important if you wish to take legal action. Contact your employer to let them know you've been injured on the job. Make sure to document any evidence that may have led to your injuries. Lastly, contact an experienced construction accident lawyer if you want to hold the responsible parties legally liable.
What is the average construction accident case worth?
To determine how much your case is worth you have to calculate the value of your damages. These can include medical bills, loss of wages, long-term impairments, and pain and suffering. Every case is different and talking to a lawyer will give you the most accurate information. Contact a Blume Forte construction accident attorney to discuss possible compensation.
ADDITIONAL INFORMATION