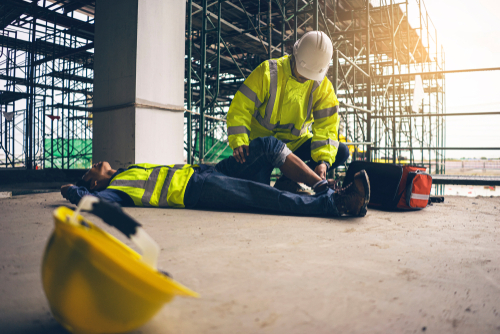 Construction sites rank among some of the most dangerous workplaces in New Jersey. Nevertheless, construction workers place a critical role in our modern society, building the infrastructure we all rely on for our comfortable lives. That is why construction workers especially deserve compensation when they are injured on the job and are left with hospital bills, lost wages and earning capacity, and other financial and personal damages.
If you or a loved one have been the victim of a construction site accident, it is critical that you speak with an experienced attorney as soon as possible to discuss your legal rights and options for pursuing compensation for your injuries and damages.
Common Construction Site Accidents
Construction workers often have to deal with numerous dangerous conditions throughout their workday. Workers face substantial risks of all different types of accidents on the construction site, including:
Slip and falls
Trip and falls
Falling objects
Falls from heights, including ladder accidents, scaffolding accidents, and roofing accidents
Crush accidents
Trench and basement cave-ins
Explosions and fires
Power tool accidents, including saw and nail gun accidents
Heavy equipment accidents
Forklift accidents
Lifting injuries
Repetitive stress injuries
Exposure to toxic substances or fumes
Legal Rights Following a Construction Site Accident
When you've suffered injury from a construction site accident, you may have various legal rights and options depending on the circumstances of your accident and injuries.
Normally, a construction worker injured in a construction site accident would be entitled to file a workers' compensation claim with his or her employer. Under New Jersey's workers' compensation law, a workers' comp claim is the only legal claim that an injured worker can file against his or her employer for injuries suffered on the job — he or she is barred from filing a personal injury claim against his or her employer, unless the employer's intentional conduct led to the worker's injury (such as withholding safety equipment as a form of punishment).
However, an injured worker may still file a personal injury claim when a third party's negligence is responsible for causing a construction site accident and the worker's injuries. For example, an injured construction worker might file a personal injury claim against the property owner or a general contractor for an accident caused by a hazardous condition of the property where the construction site is located; or a worker might file a product liability claim against the manufacturer of a defective tool or piece of equipment or machinery.
Compensation Available in Construction Accident Cases
In a workers' compensation claim, an injured construction worker may be entitled to benefits such as:
All reasonable and necessary medical treatment
Partial wage replacement for time missed from work
Payment for permanent partial disabilities
Indefinite partial wage replacement for permanent total disabilities
Vocational rehabilitation for training into a new job within a worker's knowledge and experience
A construction worker who can file a personal injury lawsuit may be entitled to compensation for:
Costs of medical treatment
Total lost wages and income for time missed from recovery
Total compensation for lost earning capacity if disabled from returning to one's old job
Lost quality of life
Pain and suffering
Contact a Chatham Personal Injury Lawyer to Discuss Your New Jersey Workplace Injury Case
A workplace injury can be devastating, particularly if it prevents you from returning to work for an extended period of time. The experienced personal injury attorneys at Blume Forte Fried Zerres & Molinari represent clients in Parsippany, Mount Olive, Rockaway, Union City, and all across New Jersey. Call 973-845-4421 or fill out our online contact form today to schedule a free consultation about your work injury case. Our main office is located at One Main Street, Chatham, NJ 07928, and we also have offices in Jersey City, Sea Girt, and North Bergen.
The articles on this blog are for informative purposes only and are no substitute for legal advice or an attorney-client relationship. If you are seeking legal advice, please contact our law firm directly.