New Jersey Surgical Malpractice Lawyer
Surgery Malpractice Attorneys in Morris County Helping Victims Pursue Rightful Compensation for Surgical Negligence in Hudson County, Monmouth County, Morris County, Somerset County, Union County, and Throughout NJ
When you undergo a surgical procedure, you expect the surgeons, nurses, anesthesiologists, and post-surgical care teams, as well as the medical facility where the procedure is performed, to comply with the "standards of care" required within the medical profession. We also expect our healthcare providers to be adequately trained and prepared. Unfortunately, despite expectations, preventable errors do occur quite frequently. Those errors may result in significant injuries or death and may be the basis for a medical malpractice lawsuit. When this is the case, it's imperative that you speak with a New Jersey Surgical Malpractice Lawyer at our firm as soon as possible in order to secure the compensation you rightfully deserve for the injuries and losses you've suffered.
Intraoperative errors may cause organ damage, muscle damage, or nerve injuries, resulting in a host of permanent conditions and the need for further, prolonged, and expensive treatment. These injuries may render a person unemployable and permanently disabled or may result in death. Intraoperative anesthesia errors may result in brain, heart, and nerve damage.
Similarly, proper postoperative care is necessary to ensure that a patient does not suffer from infections, post-op bleeds, etc., which may also result in serious injuries or death if not timely and properly addressed.
Discuss Surgical Risks with Your Doctor
Before your surgery, your healthcare providers should help you understand your procedure. Topics, including the risk of various complications, should be discussed. Moreover, healthcare providers should provide you with an opportunity to ask questions and/or voice concerns that you may have. You should be provided information with regard to any alternative modes of treatment, their risks, and their benefits so that you can make an informed decision as to the course of your care.
If your child is the surgical patient, you have a right to information regarding the procedure and any relevant preoperative and postoperative test results. Absent dire emergency situations, physicians may not make any medical decisions regarding your child without consulting you first, and the standards of care require that they provide adequate and timely information to the parents and/or guardians of minors so that the best course of treatment is implemented.
"Words cannot express how tremendously grateful I am to Jeff Zenna for his sincere compassion and legal assistance during one of the most challenging times in my life."
"I just wanted to take some time to thank you and your team for all your help in the last 3 1/2 years. Your confidence, professionalism, knowledge, and efficiency in resolving this case have been greatly appreciated by my family and I. "
"You exhibited a genuine caring for my predicament and the outcome. These are all qualities that are prized in any professional relationship."
Clearance for Surgery After Medical Testing
Preoperative testing is an integral part of the "surgical process." This testing not only serves to clarify the medical issues which need to be addressed but also acts as a mechanism through which healthcare providers "clear" you for surgery as a good candidate. It also gives surgeons and anesthesiologists information relative to potential problems or issues they need to be aware of.
A failure to adequately perform preoperative testing or recognize the significance of the results is a departure from the standards of care and may result in significant injuries.
Common Surgical Errors Suffered by Patients at NJ Hospitals
Surgical errors occur in frequently performed procedures and postoperative care. It is reported that 4,000 preventable surgical errors occur every year at a cost of more than $1.3 billion in malpractice payouts.
It is not unheard of for surgeons to perforate the bowel during a colonoscopy, lacerate the bladder during a tubal ligation, slice the muscles that control the eyes during sinus surgery, or cause nerve damage with a slip of the scalpel. However, not all surgical errors involve accidentally cutting unintended parts of the body. "Never events" also occur – wholly preventable incidents with the potential to cause harm or death to the patient, including:
Foreign objects in the patient's body: Surgeons work with scalpels, clamps, gauze, and a variety of surgical instruments in performing surgery. All too often, a surgeon closes the incision with one of these items left in the patient's body. This can lead to serious infection, severe pain, and even death in some cases.
Wrong site surgery: Inconceivable as it may seem, surgeons have been known to operate on the wrong side of the body, removing a healthy organ or limb and leaving the diseased organ or limb in place.
Wrong patient surgery: When proper hospital protocol is deficient, communication errors occur. Preoperative verification procedures may not be followed, with surgeons performing surgery on the wrong patient. Patients can lose healthy organs and suffer other serious, life-changing consequences with a surgery that was scheduled for another patient.
Even when the surgery goes as planned, medical negligence during post-operative care can result in serious infections, extended recovery times, the need for further treatment, and even death. Postoperative care starts the instant you leave the operating room and continues until follow-up is no longer needed. Breach of the standard of care in the post-op period can give rise to a medical malpractice claim.
Standard of Care and Liability for Surgical Malpractice
Healthcare providers are not necessarily liable for medical complications associated with a surgical procedure. Medical malpractice only occurs when a medical professional or facility violates the accepted standard of care and that breach of duty leads to an injury to the patient. This is known as medical negligence.
The standard of care can be defined as the generally accepted practices and procedures other medical providers would perform when treating a patient with the same condition. Performance within the standard of care will vary, depending on the patient's age and overall health. For example, a procedure that is appropriate for a young, fit adult may not be appropriate for a patient who is elderly and infirm. To prove medical malpractice in New Jersey and many other states, it is not enough to show that the patient suffered the injury during the course of medical treatment. You must also show that the healthcare provider breached the standard of care and that the patient's injuries are a direct result of that breach.
If you have been the victim of surgical negligence in New Jersey, an experienced New Jersey surgical malpractice lawyer at Blume Forte Fried Zerres & Molinari can make all the difference in the success of your claim.
Contact a New Jersey Surgical Malpractice Lawyer at Blume Forte Fried Zerres & Molinari for a Free Consultation About Your Case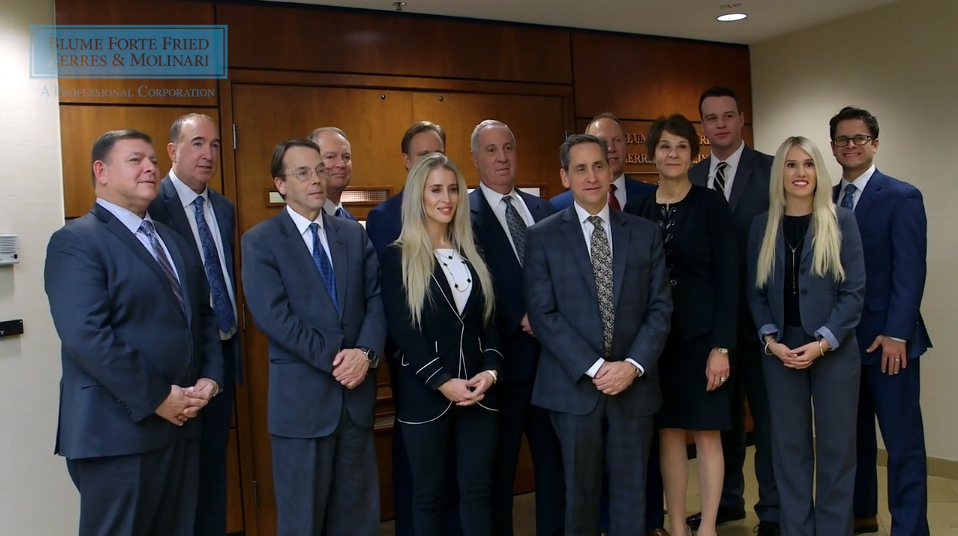 Injuries resulting from preoperative, postoperative, and intraoperative treatment may be a result of medical negligence. Each New Jersey surgical malpractice lawyer at Blume Forte Fried Zerres & Molinari has the knowledge and experience needed to determine if your treatment has been performed properly and if you can file a claim for damages stemming from your injuries and related losses (lost wages or disability, costs of care, quality of life issues, etc.).
Please contact our surgery malpractice attorneys in Morris County, NJ for a no-cost evaluation of your potential claim at 973-845-4421.
Frequently Asked Questions About Surgical Malpractice Claims in New Jersey
How much does it cost to hire a surgical malpractice lawyer?
The surgery malpractice attorneys in Morris County, NJ at Blume Forte get paid through a contingency fee. This fee is a percentage of the settlement you'll receive if there is a positive outcome in your case. This also means you won't have to worry about paying any upfront costs. Your first consultation is free and it will allow you to discuss other costs associated with hiring a lawyer.
What to do when your injured from surgical malpractice?
Being the victim of surgical malpractice can have serious repercussions and even result in death. If you or a loved one has suffered from malpractice you may be faced with a long road to recovery. A surgical mistake can be detrimental and someone needs to be held responsible. Hiring a skilled malpractice lawyer will give you the best chance of receiving full compensation for your injuries.
What is the average surgical malpractice case worth?
The worth of your case will depend on your damages. Different kinds of damages result in different amounts awarded. Suffering from economic damages may allow you to be rewarded for lost wages, loss of future earnings, and medical bills. You can also be rewarded for non-economic damages such as pain and suffering, emotional distress, and loss of a loved one. contact an experienced surgical malpractice lawyer to get a better understanding of what your case may be worth. Your lawyer will be able to give you an estimate based on your damages.
ADDITIONAL INFORMATION