New Jersey Hotel Accident Lawyer
Top-Rated New Jersey Hotel Accident Lawyer Represents Guests Injured by Conditions of the Hotel Property
Hotels are supposed to be a safe place to rest while traveling or on vacation. Unfortunately, negligence by hotel owners and operators can lead to guests being injured in accidents due to dangerous or hazardous conditions of the hotel premises. If you have been hurt while visiting a hotel or resort, a New Jersey hotel accident lawyer from Blume Forte Fried Zerres & Molinari can help you seek the financial recovery and justice that you need and deserve.
Originally founded in 1929, our firm has been advocating on behalf of injury victims for nearly 60 years. Over the decades, we have developed a proven track record of results obtained on behalf of our clients. We are consistently recognized as one of the most successful injury firms in New Jersey, having secured more than $350 million in verdicts and settlements for our clients in just the last five years alone. We know that injuries don't just affect the lives of our clients but also impact their families as well. That's why we leave no stone unturned in making sure you achieve the best legal, physical, and emotional recovery possible from the injuries that you suffered due to dangerous conditions of hotel property.
We are ready to get started pursuing your case. Contact our firm today for a free initial case evaluation to go over your legal rights and options with a New Jersey hotel accident lawyer from our legal team after you have been hurt on hotel property.
Common Types of Hotel Accidents in New Jersey
Negligent maintenance or operation of a hotel property can lead to guests being injured in a wide variety of premises liability accidents. Some of the most common types of accidents that occur at hotels in New Jersey include:
Slip and fall accidents, which are frequently caused by spills, recently mopped or waxed floors, broken stairs, broken and uneven pavement, snow and ice, or wires and cords laying across walking paths
Motor vehicle accidents that occur while guests are riding in hotel shuttles or other hotel-operated vehicles
Swimming pool accidents, including slip and falls, drownings, or illness caused by contaminated water, caused by negligent operation or maintenance of the swimming pool area by the hotel
Elevator or escalator accidents caused by negligent or inadequate maintenance of equipment
Food poisoning due to food services providing spoiled or contaminated food to guests because of a lack of proper food safety practices
Negligent security, including lack of lighting, locks, security cameras, or security personnel, which may facilitate criminal activity or violent behavior that can injure innocent guests
"Words cannot express how tremendously grateful I am to Jeff Zenna for his sincere compassion and legal assistance during one of the most challenging times in my life."
"I just wanted to take some time to thank you and your team for all your help in the last 3 1/2 years. Your confidence, professionalism, knowledge, and efficiency in resolving this case have been greatly appreciated by my family and I. "
"You exhibited a genuine caring for my predicament and the outcome. These are all qualities that are prized in any professional relationship."
Compensation You May Be Entitled to Following a Hotel Accident in NJ
When you have been injured in a hotel accident, you may be entitled to recover financial compensation for:
Costs of medical treatment and rehabilitation of injuries
Costs of long-term care for permanent disabilities caused by your injuries
Lost wages or income after missing time from work while recovering from your injuries
Loss of earning capacity when you are left with permanent disabilities that impact your ability to work
Physical pain
Emotional trauma and/or distress
Loss of quality or enjoyment of life
How an Experienced New Jersey Hotel Accident Lawyer from Blume, Forte, Fried, Zerres & Molinari Can Assist You with Your Case
When your time and energy are focused on treating your injuries and recovering from a serious hotel accident, let a New Jersey hotel accident lawyer from our firm handle all the details in preparing and pursuing your claims to compensation, including:
Investigating the accident to secure evidence and determine what caused the accident and who can be held at fault for your injuries
Identifying possible sources of compensation, including the available insurance coverage
Retaining expert witnesses if needed to help build a strong, persuasive argument in favor of your rights to compensation
Helping you document the full extent of your expenses and losses so we know what maximum compensation in your case looks like
Filing your claims with the liable parties and insurance companies to vigorously negotiate for a settlement that pays you fair and full compensation
Taking your case to court or to trial if needed to ensure you have the best opportunity to get the recovery you need and deserve
Contact Us Today for a Free Case Review to Discuss Your Rights and Options with a New Jersey Hotel Accident Lawyer from Our Firm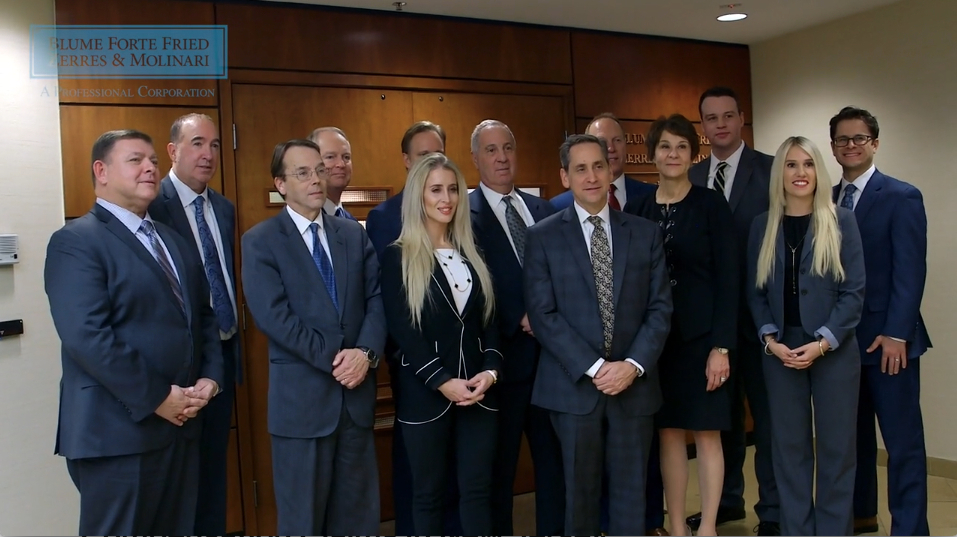 Don't delay starting the process of pursuing financial recovery for the injuries and losses you suffered from a hotel accident. Call Blume, Forte, Fried, Zerres & Molinari today for a free, no-obligation consultation to speak with a seasoned New Jersey hotel accident lawyer to learn more about how our firm can help you get the maximum compensation you deserve in your case.
Frequently Asked Questions about Hotel Accidents in NJ
FAQ: How long do you have to file a lawsuit in a hotel accident case?
Under New Jersey's statute of limitations on injury claims, you typically only have two years from the date of a hotel accident to file a lawsuit against the party or parties liable for your injuries. If you wait until after the statute of limitations has expired on your claim to file a lawsuit, you risk having your personal injury suit permanently dismissed by the court and losing the right to recover compensation for your injuries.
FAQ: Who can be held liable for the injuries I suffered in a hotel accident?
Many hotels are operated by multiple entities, each of which may be responsible for a hotel accident or may have some share of liability for the injuries suffered by a hotel accident victim. Depending on the circumstances of a hotel accident, parties that may have liability for a hotel accident include the hotel brand owner, the hotel operator, the hotel property owner (if different from the hotel brand owner or the hotel operator), or third party contractors who provide services on the hotel property such as maintenance or food services.