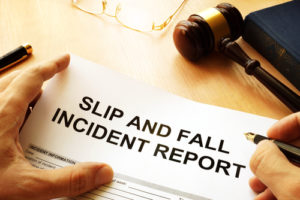 You didn't notice the uneven pavement until your foot caught the edge and you slammed into the ground. You expected the property to be safe, but now you're suffering an injury that will require medical treatment. What should you do?
Who is responsible for a property's upkeep, anyway? When does a property owner's failure to maintain their property rise to the legal definition of negligence? If you've suffered an injury on someone else's property, then these questions take on a whole new meaning. The answers could be the difference between getting compensation for your losses and having to bear the costs yourself. Learn everything you need to know about New Jersey's premises liability laws below.
Premises Liability Laws in NJ
The law in New Jersey is clear – property owners have a duty to take reasonable care of the people who visit their property. That means they have a responsibility to keep their property safe. If you get injured on someone else's property, then the owner may be held liable if it's found that they didn't take reasonable steps to ensure your safety.
This is especially true when the owner was aware of or should have reasonably been aware of the dangerous condition that led to your fall. If that's the case, then you have the basis to seek out a premises liability lawsuit in New Jersey.
Steps to Take After an Injury on Someone Else's Property
The first thing you need to do after your slip and fall accident is to seek out medical care. As soon as you are able to, inform the business or property owner of where your accident happened. This step will give the property owner time to investigate the situation and determine what caused your fall.
After informing the business owner about your accident, it's advised you reach out to an experienced attorney. Talk to your lawyer about what happened and what your doctor diagnosed you with. Your lawyer will help you compile all the evidence together to build up a strong case. Then, they'll help you start to negotiate with the property owner or business. Depending on your situation, you may be able to recover medical expenses, costs associated with lost wages and financial relief to ease your pain and suffering.
Contact a Chatham Personal Injury Lawyer to Discuss Your Premises Liability Case in New Jersey
Did you or a loved one sustain serious injuries due to a slip and fall accident in New Jersey? Don't let the medical bills pile up while you wait for the negligent party or their insurance company to do the right thing. Right now, you need an aggressive personal injury attorney on your side, fighting to get you the compensation you need, want, and deserve. The skilled attorneys at Blume Forte Fried Zerres & Molinari represent clients injured because of premises liability in Chatham, Jersey City, North Bergen, Sea Girt and throughout New Jersey. Call 973-845-4421 or fill out our online contact form to schedule a free consultation about your case. We have an office conveniently located at One Main Street, Chatham, NJ 07928 as well as offices in Jersey City, Sea Girt, and North Bergen.
The articles on this blog are for informative purposes only and are no substitute for legal advice or an attorney-client relationship. If you are seeking legal advice, please contact our law firm directly.