New Jersey Truck Accident Due to Company Negligence Lawyer
Personal Injury Lawyers Advocate for the Rights and Interests of Injured Victims of Truck Accidents Caused by Trucking Company Negligence in New Jersey
The trucking industry serves as the lifeblood of our state's and our country's economy, moving goods and materials where they need to go, including to our store shelves and our homes. Due to extensive regulations and the responsibility of trucking operators, most trucks safely get their cargo to its destination. However, with millions of trucks on American roads, trucking accidents are virtually inevitable. Sadly, when truck accidents do occur, they tend to result in catastrophic injuries and losses for other motorists, passengers, or pedestrians involved in an accident. That's why a New Jersey truck accident due to company negligence lawyer fights for fair compensation for injured victims across New Jersey.
While many truck accidents are attributable to a truck driver's negligence, in many cases the trucking company responsible for the transportation of the cargo can cause or contribute to an accident through its own negligent and reckless action. If you've been involved in a truck accident that may have been caused by trucking company negligence, turn to the attorneys of Blume Forte Fried Zerres & Molinari. With several decades worth of combined experience, our lawyers have diligently pursued full compensation on behalf of our clients who've been injured by negligence or legal fault of other parties. Over the decades, we've earned a reputation for never backing down when corporations and their insurers try to minimize their liability to innocent victims they've injured. So when the trucking company responsible for an accident that led to your injury tries to avoid providing you with the financial company you deserve, you can expect that we will fight to hold them accountable.
Contact us for a free, no-obligation case review to learn more about how we can ensure you have a fair opportunity to pursue full compensation when a trucking company's negligence causes an accident that leaves you with life-altering injuries.
How Trucking Companies Can Cause or Contribute to Truck Accidents
Although truck accidents are commonly thought to be caused by truck driver negligence, trucking companies can also cause or contribute to truck accidents through their own negligence or recklessness. Ways that trucking company negligence can result in accident include:
Hiring truck drivers with records of safety and traffic violations or a history of causing truck accidents
Failing to properly instruct drivers on safe operation of the trucking company's vehicles
Instructing or encouraging drivers to speed or commit other traffic offenses to ensure timely delivery of cargo
Instructing or encouraging drivers to disregard hours of service limitations
Failing to ensure vehicles are properly maintained, or consciously disregarding or deferring necessary or recommended maintenance
Regulations issued by the Federal Motor Carrier Safety Administration and the state of New Jersey are intended to ensure that commercial trucks safely operate on public roads. When trucking companies fail to follow these laws and regulations or consciously disregard them, they create the perfect conditions for a devastating truck accident.
"While coming highly-recommended to me, Jeff handled a motor vehicle case wherein I sustained permanent injuries from 4 pelvic fractures. He was very upfront with me about the value of my case and he succeeded in going above and beyond to make sure I received the settlement I deserved for my injuries. Jeff's level of expertise and professionalism surpassed even my greatest expectations."
"I just wanted to take some time to thank you and your team for all your help in the last 3 1/2 years. Your confidence, professionalism, knowledge, and efficiency in resolving this case have been greatly appreciated by my family and I."
"I wish to convey my esteem and admiration for your professional excellence and personal manner in dealing with me regarding my auto accident case. Your attention to detail and knowledge were impressive by any standard."
Our Dedicated Lawyers Will Vigorously Pursue Full Compensation for Injuries You've Suffered in a Truck Accident
The laws and regulations for the trucking industry are complicated. When a trucking company's negligence may have been responsible for an accident in which you suffered injuries, you need experienced legal representation to thoroughly investigate your case and ensure that all responsible parties are held accountable to compensate you for your losses. Our New Jersey truck accident due to company negligence lawyers have the experience to ensure we leave no stone unturned in reviewing the evidence in your case to precisely identify whose negligence or legal fault caused or contributed to the accident.
In New Jersey, you only have a limited time to bring a claim for compensation for injuries and losses you suffered in a truck accident. At Blume Forte Fried Zerres & Molinari, we quickly get to work in your case to ensure that your rights are properly protected and asserted. Let us handle all the aspects of your case so that you only need to worry about your treatment and recovery and working to get back to your regular life after being injured through no fault of your own.
Contact Our Experienced New Jersey Truck Accident Due to Company Negligence Lawyers for a Free Consultation to Discuss How We Can Help with Your Claim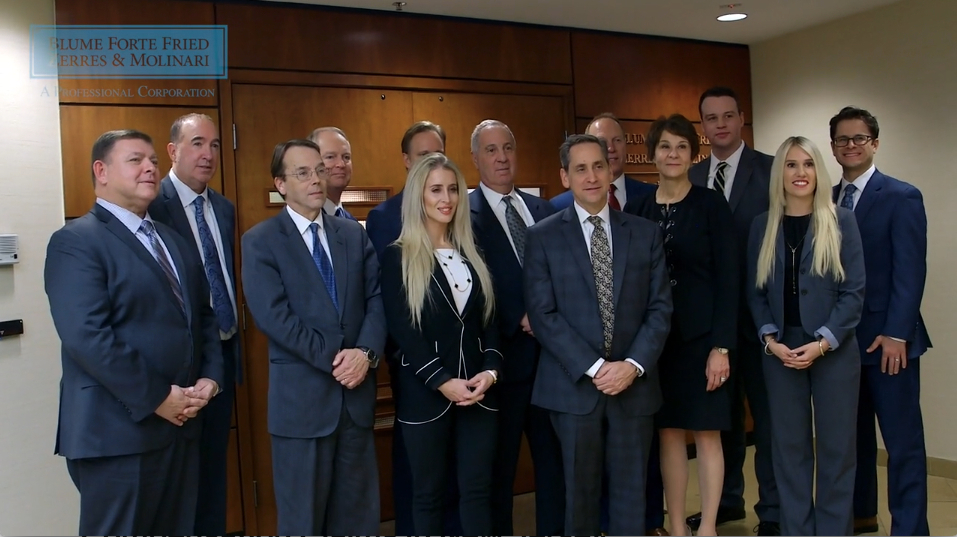 When you've been injured in a truck accident that was caused by the trucking company's negligence, you need experienced legal representation to help you hold corporations and their insurers accountable to compensate you for your injuries and losses. Contact Blume Forte Fried Zerres & Molinari for a free case evaluation to discuss your rights and options for pursuing a legal claim against trucking companies for their negligence and legal fault.
Frequently Asked Questions about Truck Accidents Due to Trucking Company Negligence
Can a trucking company be held responsible for a truck driver's negligence?
A trucking company can be subjected to employer liability, also known as vicarious liability, for a truck driver's negligence when the driver is classified as an employee of the trucking company. Many truck drivers work as independent contractors as they own their own truck and accept hauling jobs on a per-route basis from the trucking company. If a truck driver is properly classified as an independent contractor, the trucking company cannot be held responsible for the driver's negligence. However, the trucking company might still be held accountable for negligent retaining or supervising a truck driver it had hired, especially if the trucking company knew or should have known the driver posed a risk of an accident.
The trucking company has offered to settle by paying the full amount of their insurance coverage. Should I accept the settlement?
You should never accept a settlement of your truck accident claim without first speaking with an experienced truck accident attorney. Many trucking companies and their insurers try to minimize the money they pay to accident victims by claiming that a settlement offer represents the company's best offer or the full extent of insurance coverage. However, a first settlement offer rarely represents a best-and-final offer. In addition, many trucking companies have layered insurance coverages, meaning there might be additional coverage available to compensate you. Our attorneys can review the facts and circumstances of your case to determine whether you've been offered fair and full compensation.