New Jersey Daycare Injury Lawyer
New Jersey Attorneys Handling Child Care Accident Cases in Hudson County, Monmouth County, Morris County, and Throughout NJ
When you select a daycare program for your child, the last thing you want or expect is an emergency phone call from the facility informing you that your child suffered an injury. Although some daycare injuries are inevitable, others are the result of negligent behavior by staff or unsafe physical conditions. It is important for parents to remember that the civil justice system exists for reasons like this—to provide compensation and accountability after an accident, injury, or death caused by negligence.
If your child sustained serious injuries in a daycare accident, the New Jersey daycare injury lawyers of Blume Forte Fried Zerres & Molinari can help. Contact us today by calling 973-845-4421 or by filling out the online contact form to schedule a free consultation at one of our offices in Chatham, Sea Girt, Jersey City, or North Bergen, NJ.
Causes of Daycare Accidents and Injuries in New Jersey
Many child injuries at day care facilities are the result of poor maintenance and housekeeping. Such negligence can take the form of:
Failing to check and repair stair railings.
Failing to check and repair playground equipment.
Failing to store ladders and step stools properly.
Failing to lock away dangerous objects and substances such as cleaning products, medications, and chemicals.
Failing to clear snow and ice from sidewalks and parking lots.
Failing to repair torn carpet, loose power cords and outlets, and unstable building components.
Failing to secure bookshelves, television stands, and storage units securely.
Other injuries at New Jersey childcare centers are the result of staff failing to do their jobs properly. When this behavior causes injury to a child, parents may be able to seek compensation after:
Staff failed to inspect toys for flaking paint and broken parts that could be ingested.
Staff failed to keep children away from wet and slippery floors.
Staff left children unsupervised.
Staff left safety gates unlocked, allowing children access to pools and other dangerous places.
Staff neglected to secure classroom supplies such as staplers, push pins, scissors, and other items that could be dangerous for some age groups.
In addition, the management of the day care program could have been negligent by failing to conduct background checks of teachers and aides, hiring unqualified teachers, and not implementing adequate health and safety safeguards. Other examples of management negligence at daycare programs include not hiring enough staff and not implementing strict policies prohibiting any type of child abuse.
"Words cannot express how tremendously grateful I am to Jeff Zenna for his sincere compassion and legal assistance during one of the most challenging times in my life."
"I just wanted to take some time to thank you and your team for all your help in the last 3 1/2 years. Your confidence, professionalism, knowledge, and efficiency in resolving this case have been greatly appreciated by my family and I. "
"You exhibited a genuine caring for my predicament and the outcome. These are all qualities that are prized in any professional relationship."
Your Options After a New Jersey Daycare Injury to Your Child
If you think that your child suffered an injury because of negligence at a day-care facility, you may be able to file a civil lawsuit against the party responsible for the injury and hold them legally liable. This means that you could file a lawsuit seeking compensation that gives you the resources needed to pay for your child's medical bills, rehab, medications, therapy, and any other treatments that could help them to heal.
Why Hire Our New Jersey Law Firm for a Daycare Injury Lawsuit?
The New Jersey personal injury law firm of Blume Forte Fried Zerres & Molinari was founded in Newark in 1929. In the years since, the number of lawyers and staff has grown significantly. In addition, we now have four offices in northern and central New Jersey: Chatham, North Bergen, Jersey City, and Sea Girt, NJ. We have medical personnel on staff, and the Supreme Court of New Jersey certifies several of our lawyers in Civil Trial Law. Our firm has a lengthy record of accomplishment on behalf of clients who were injured or who died because of another's negligence, including families whose children were injured due to negligence in daycare facilities. Our track record includes more million-dollar verdicts and settlements than any law firm in the state.
Contact Our New Jersey Daycare Injury Attorneys Today for a Free Consultation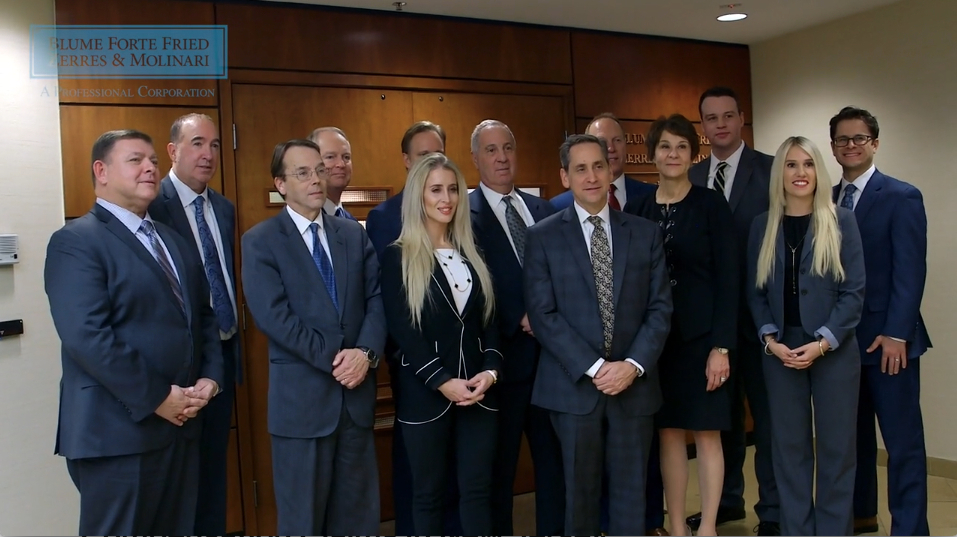 If your child was seriously hurt at a daycare facility in New Jersey, contact Blume Forte at 973-845-4421 today for a free consultation. Learn how we can help your child and hold the daycare facility responsible for the injuries caused by their negligence. We have offices in Jersey City, North Bergen, Chatham, and Sea Girt, NJ.