New Jersey Auto Accident Lawyer
Our Experienced NJ Auto Accident Lawyers Can Advocate on Your Behalf
A report conducted by the New Jersey Department of Transportation indicated that there were 256,482 traffic accidents in 2016 alone. Of these, many resulted in substantial injury or even death. As such, it's critical that claimants file suit to gain access to money damages in order to compensate them for their losses. Here at Blume Forte Fried Zerres & Molinari, our NJ personal injury attorneys have many decades of experience advocating on behalf of injured clients in motor vehicle accident litigation throughout the State of New Jersey. Contact any of our four offices — in Chatham, Jersey City, North Bergen, and Sea Girt — today to schedule a free consultation with a skilled New Jersey auto accident lawyer at Blume Forte.
Blume Forte Can Help You Obtain Full Compensation in Your New Jersey Motor Vehicle Accident Case
In New Jersey, as in other states, even if you can successfully prove that the defendant was negligent, reckless, or intentionally liable for your injuries — and therefore "win" the motor vehicle litigation at issue — you will not necessarily obtain full compensation. Effective litigation requires that your attorney persuasively argue that you are not only entitled to damages, but that you are entitled to the specific damages asserted in your lawsuit. The difference between securing damages of $500,000 and securing damages of $100,000 is quite substantial and can greatly impact your recovery. Your attorney must be capable of negotiating damages that closely approximate your actual damages or otherwise obtaining an adequate award at trial.
If you've suffered injuries in a New Jersey motor vehicle accident, make sure to get in touch with one of our experienced NJ personal injury attorneys today. Our firm handles a broad range of motor vehicle litigation that includes, but is not necessarily limited to, situations involving:
"Words cannot express how tremendously grateful I am to Jeff Zenna for his sincere compassion and legal assistance during one of the most challenging times in my life."
"I just wanted to take some time to thank you and your team for all your help in the last 3 1/2 years. Your confidence, professionalism, knowledge, and efficiency in resolving this case have been greatly appreciated by my family and I. "
"You exhibited a genuine caring for my predicament and the outcome. These are all qualities that are prized in any professional relationship."
Contact Us Today for a Free Consultation with a Skilled New Jersey Motor Vehicle Accident Lawyer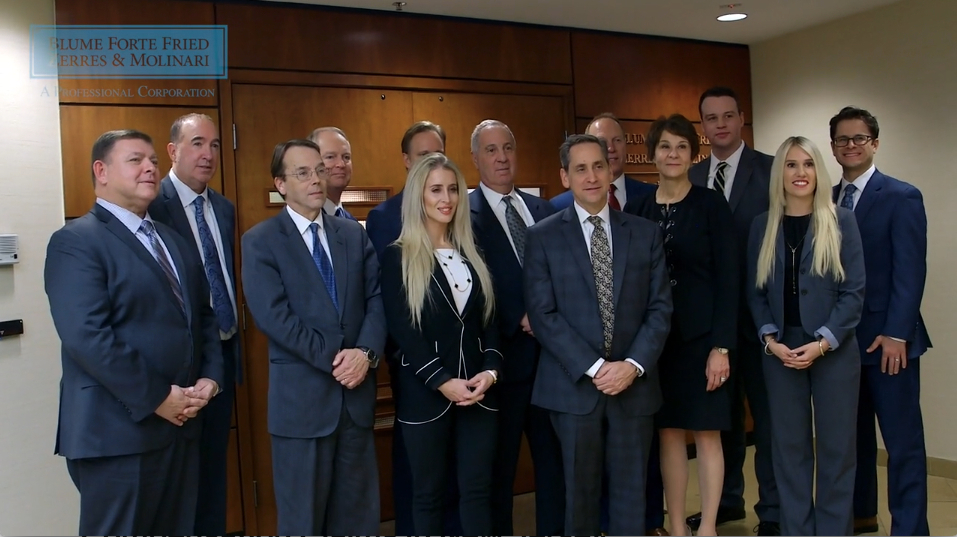 Motor vehicle accident litigation can be surprisingly complex below the surface. Upon initial review, you might not realize the ways in which litigation can be complicated by the unique circumstances surrounding your various injury claims. What may appear to be a basic collision between two vehicles might actually involve liability that attaches to other parties, such as a third driver or a private landowner. Successful motor vehicle litigation requires a team of attorneys that has a proven ability to effectively navigate the hidden complexities and dynamic nature of such lawsuits in New Jersey.
Charles Blume founded Blume Forte in 1929, nearly a century ago. Since then, Blume Forte has developed a reputation as one of the foremost personal injury firms in New Jersey, with an exceptional track record of results. In the past five years, for example, our attorneys have obtained more than $320 million in compensation for our personal injury and medical malpractice clients, in both settlements and verdicts, throughout NJ, including Parsippany-Troy Hills, Union City, and Middletown. Our attorneys have also been awarded numerous accolades, such as being named as Super Lawyers and among the Best Lawyers in America by prestigious legal publications.
New Jersey law gives motor vehicle accident victims (like other injury victims) a limited time in which to file their claims. As such, it's important that you consult with one of our attorneys before your claims expire. Call our offices today to set up a free consultation with one of our experienced attorneys.
Frequently Asked Questions About Motor Vehicle Accidents
How much does it cost to hire an auto accident lawyer?
The attorneys at Blume Forte work on a contingency basis. This means we only get paid if we win your case. The fee will be a fixed percentage of whatever is awarded to you at the end of the trial. Our firm also offers a free initial consultation to discuss the details of your claim. 
During the consultation, your lawyer will further discuss any other fees and costs associated with hiring a lawyer.
What to do when a motor vehicle accident happens to you?
If you're involved in a motor vehicle accident you should always call the police. Having a police report is important if you wish to file a lawsuit down the road. Capture the scene of the accident by taking pictures and videos of the wreck. After the accident, you should seek medical attention regardless of how severe you think your injuries are. Many motor vehicle accident injuries can show up later. If you believe someone else's negligence was the cause of your accident, contact an experienced personal injury lawyer to help you with your case.
What is the average motor vehicle accident case worth?
The worth of your case is going to be dependent on the severity of your damages. These include your injuries, lost wages, medical bills, and lost earning capacity. The more serious your damages the higher your possible compensation will be. Speak with an experienced personal injury lawyer to get a better understanding of what your case may be worth. A lawyer will be able to give you an estimate based on your damages.