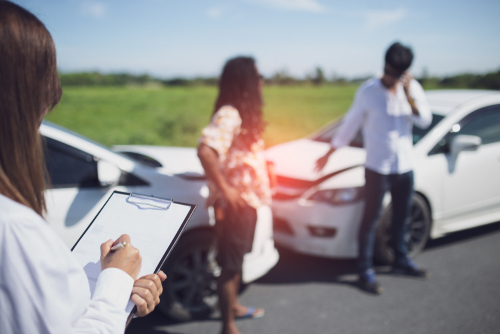 If you or a loved one are injured in an accident, it is very likely that at some point you will have to contact or will be contacted by an insurance company. Unfortunately, the process of dealing with insurance companies is confusing and frustrating for accident victims who have little or no experience with insurance companies. Insurance companies will too often use tricks and tactics to get injured accident victims to accept less money, in order to help improve the insurance company's bottom line. That's why it helps to be mindful of the following tips for dealing with insurance companies following an accident.
Read more: How Soon After A Car Accident Should I See A Doctor?
The Insurance Company is Not on Your Side
The insurance adjuster you are contacted by may seem very friendly and may talk about wanting to get you money to help pay for your bills. But you have to always remember that the insurance company is not on your side (even if it is your own insurance company). The insurance company representatives work for the insurer, not you. They will be looking for any avenue they can use to get you to accept as little money as possible, including using statements and information you've provided to the insurance company against you. 
Read more: The Financial Formula Insurance Adjusters Use In Personal Injury Cases
Talk to a Personal Injury Lawyer
Having a personal injury lawyer or insurance lawyer can be incredibly helpful in dealing with the insurance companies. An experienced lawyer can ensure that your insurance claims are properly filed with all the necessary information. A lawyer can also communicate with the insurance company on your behalf so that you don't have to worry about saying something the insurer might later try to use against you. Having legal representation also signals to the insurance company that you are serious about getting a full payout on your claim. 
Review Your Insurance Policy for Important Dates and Deadlines
Many insurance policies require you to report an accident or a claim within a certain period of time, or to respond to the insurance company's requests for documents or information within a certain time. You should always confirm these dates and deadlines to ensure that your claim is not dismissed on a technicality of failing to notify the insurer of your accident or claim within the time period set forth in your policy.
Let a Lawyer Deal with the Insurance Company on Your Behalf
It always makes sense to let your lawyer negotiate a resolution of your claim with the insurance company rather than trying to negotiate on your own. Injured accident victims who are represented by an attorney almost always recover more compensation than those who try to pursue their claim with the insurance company on their own.
Make Sure You Know All Your Damages
Before beginning to negotiate a settlement or resolution of your insurance claim, you should be sure that you've considered and calculated all your damages arising from your accident. This includes damages you've already sustained, including medical invoices, lost wages, and repair bills. You should also be mindful of future damages you are likely to incur after you've settled your claim and ensure that the compensation you are receiving will cover those damages — once you've settled your claim with the insurance company, you can't come back to demand more compensation for the same accident. 
Read more: What Is Uninsured/Underinsured Motorist Coverage In Camden, NJ?
Contact a Chatham Personal Injury Lawyer to Discuss Your Case in New Jersey
Did you or a loved one sustain serious injuries as a result of a car accident in New Jersey? Don't let the medical bills pile up while you wait for the negligent party or their insurance company to do the right thing. Right now, you need an aggressive personal injury attorney on your side, fighting to get you the compensation you need, want, and deserve. The skilled attorneys at Blume Forte Fried Zerres & Molinari represent clients injured in Parsippany, Mount Olive, Rockaway, Jersey City, and throughout New Jersey. Call 973-845-4421 or fill out our online contact form to schedule a free consultation about your case. We have an office conveniently located at One Main Street, Chatham, NJ 07928, as well as offices in Jersey City, Sea Girt, North Bergen.
The articles on this blog are for informative purposes only and are no substitute for legal advice or an attorney-client relationship. If you are seeking legal advice, please contact our law firm directly.