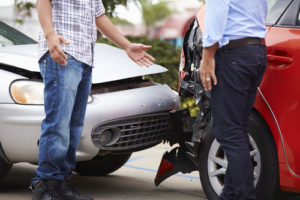 Driving in New Jersey is stressful. The congestion is immense, almost as bad as some of the largest cities in the country, which can make the morning and evening commutes painful. If you've been driving for a long time you've likely experienced an accident or two. If you're lucky enough, you might have never been involved in a car accident. Either way, it's still important to learn what it means when you come across an uninsured or underinsured motorist on the roads of the Garden State. Today, we will explain all you need to know about uninsured and underinsured motorist coverage for your insurance policy.
What is the Minimum Insurance Coverage Required in New Jersey?
The minimum requirements for auto insurance coverage in New Jersey are as follows:
$5,000 limit for property damage liability
$15,000/$30,000 limit for uninsured/underinsured bodily injury
$5,000 limit for uninsured motorist property damage
$15,000 limit for personal injury protection
Every personal vehicle registered in the state of New Jersey must have property damage coverage and personal injury protection in order to be considered legal.
Standard Auto Insurance Coverage in Union City, NJ
One of the minimum policies available for purchase in New Jersey is the standard auto insurance policy. This policy will help pay for damages incurred in an accident with a person or company that did not have auto insurance or did not have enough auto insurance at the time of an accident. A standard policy also helps you recover compensation if the at-fault driver's insurance company denies your claim against them.
Basic Auto Insurance Coverage in Hoboken, NJ
A basic auto insurance policy in New Jersey is the lowest form of auto insurance available for purchase. This type of policy will not help you recover compensation from an at-fault driver who is uninsured or underinsured. The minimum coverage limit for uninsured/underinsured motorist is $5,000 but higher limits are available for your policy. Even though you can purchase higher limits, this coverage cannot be higher than your personal liability coverage limits on your policy.
Filing an Uninsured/Underinsured Motorist Claim in Jersey City, NJ
If you are ever involved in an accident with an uninsured or underinsured motorist and you have this coverage on your policy you need to be aware of how your own insurance provider will handle such a claim. Even though you are filing the claim against the policy you hold with your insurance company they will stand with the other driver involved in the accident.
What exactly does this mean? The insurance company will only pay your claim if the other driver was found to be at-fault for the crash. If you were the at-fault driver and the other driver doesn't have coverage, or doesn't have adequate coverage, and you still file a claim it will be denied. This is covered under what is known as the New Jersey Comparative Negligence Law. Your degree of liability in the crash needs to be less than the liability of the other driver in order for a claim of this kind to be paid out by an insurance company.
Contact a Chatham Personal Injury Lawyer to Discuss Your Auto Insurance Case in New Jersey
Did you or a loved one sustain serious injuries and are having issues with your auto insurance coverage in New Jersey? Don't let the bills pile up while you wait for the negligent party, or their insurance company, to do the right thing. Right now, you need an aggressive personal injury attorney on your side, fighting to get you the compensation you need, want, and deserve. The skilled attorneys at Blume Forte Fried Zerres & Molinari represent clients having issues with their auto insurance in Middletown, Hoboken, Parsippany, Mount Olive, and throughout New Jersey. Call 973-845-4421 or email us to schedule a free consultation about your case. We have an office conveniently located at One Main Street, Chatham, NJ 07928, as well as offices in Jersey City, Sea Girt and North Bergen.
The articles on this blog are for informative purposes only and are no substitute for legal advice or an attorney-client relationship. If you are seeking legal advice, please contact our law firm directly.