New Jersey Dog Bite Lawyer
Legal Help After a Dog Bite or Attack
A serious dog attack on a human can leave dog owners and bystanders stunned by the actions of a beloved and formerly docile companion. Even though humans have domesticated dogs for centuries, not all dogs make the best pets, nor are all dog owners responsible in the training, monitoring, or restraint of their animals. If you suffered an injury after a dog attack, a skilled New Jersey dog bite lawyer can help.
Dogs are predators by nature; "working" dogs, such as German Shepherds, have often been specially bred for guard duty or other tasks which require a violent response. When a dog's predatory nature and dominant instincts combine with poor training and monitoring, the result can be a traumatic attack.
Attacks Result in Serious Injuries
The majority of victims in serious New Jersey dog attacks are the most fragile humans: children and the elderly. Children are especially vulnerable because they may not understand the difference between play and aggression, and because their small size can trigger dogs' dominance instincts. Unfortunately, these groups' fragility means dogs can do more harm in an attack. Children's size gives large dogs easy access to vital areas of their heads and necks, resulting in substantial loss of skin and blood, broken bones, eye and nerve injuries, permanent scarring, dangerous infections, or even death. In addition, there is emotional trauma associated with being attacked by a dog and in suffering cosmetic deformities such as visible scars.
New Jersey Dog Bite Law
Dog owners are strictly liable for dog bite injuries in New Jersey, which means that liability does not depend on negligence or intent to harm. Under state dog bite law (NJSA 4:19-16), the dog owner is liable for damages if the dog bites a person in a public place or in a private place, including the dog owner's property, regardless of any viciousness previously demonstrated by the animal, or the dog owner's knowledge of this behavior. For purposes of this statute, a person is considered "lawfully on a property" in the course of performing a duty imposed by state law or postal regulations, or at the express or implied invitation of the owner.
In a dog bite injury claim, if the dog owner raises the injured party's "comparative negligence" as a defense, the dog owner has the burden of proving that the person who was bitten exposed himself or herself unreasonably and voluntarily to a known risk. The dog owner would have to show that the person who was bitten knew in advance that the dog was inclined to bite, either because the dog was known to be vicious or because the person who was bitten had committed deliberate acts to incite the dog.
"Words cannot express how tremendously grateful I am to Jeff Zenna for his sincere compassion and legal assistance during one of the most challenging times in my life."
"I just wanted to take some time to thank you and your team for all your help in the last 3 1/2 years. Your confidence, professionalism, knowledge, and efficiency in resolving this case have been greatly appreciated by my family and I. "
"You exhibited a genuine caring for my predicament and the outcome. These are all qualities that are prized in any professional relationship."
Who Is Responsible for a Vicious Dog Attack?
Debate continues on whether some breeds are naturally aggressive, but nearly all experts agree that poor training, abuse, or neglect are some of the most important factors in contributing to a dog attack. In New Jersey, a dangerous dog's owner can be held legally responsible for the dog's actions, even if the dog has never shown signs of aggression before.
Vicious dog attacks are not only terrifying; they can also cause significant, long-term physical and emotional damage, particularly in young children and elderly adults. Victims may require various medical treatments, often involving hospitalization and surgery. Dogs who have not been vaccinated can transmit rabies, and serious infections are associated with dog bites.
Compensation in a Dog Attack
If someone else's dog bites and injures you or a family member, you have every right to seek compensation for your losses. Your first action should be to get in touch with a knowledgeable personal injury lawyer to assist you in filing a claim to recover damages. In many cases, these claims can be settled out of court through negotiations with the dog owner's insurance company.
In a dog attack lawsuit, your family can be awarded compensation for the impact of the injuries and costs associated with medical and other treatment necessitated by the attack, including future scar-reduction treatments or therapy for a traumatized child. You may also expect to be compensated for pain and suffering and emotional distress. Homeowners insurance generally covers dog bite lawsuits. If you or your loved one has been bitten by a vicious dog, it is important to note the statute of limitations (a time limit imposed by law) on dog bite personal injury claims. You have two years from the date of the incident to file a lawsuit in court. If you fail to file within that time limit, your opportunity to file a claim for compensation will be barred (with some exceptions).
Specializing in Complex Dog Bite Cases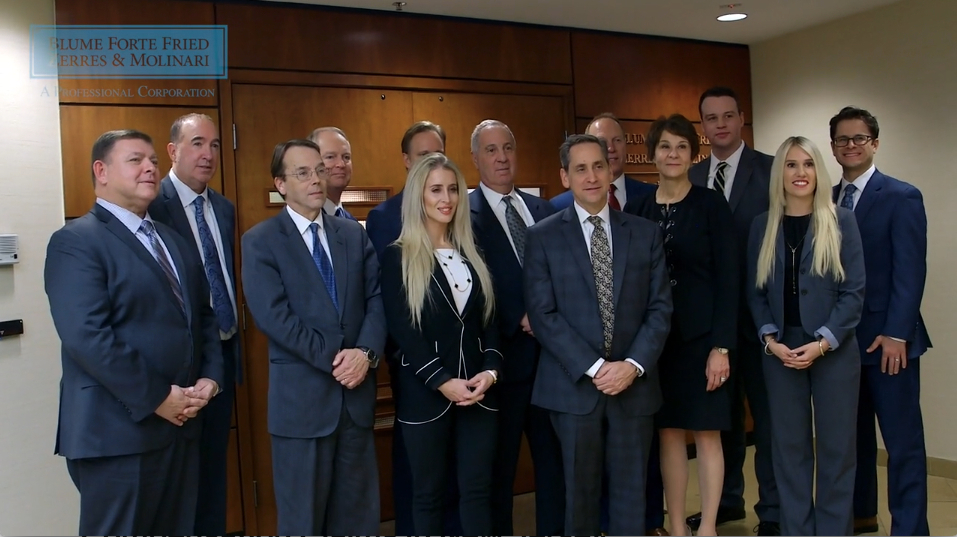 Founded in 1929, the law firm of Blume Forte Fried Zerres & Molinari has served injured clients in New Jersey for nearly eight decades. We're proud to say we've secured more than $320 million in settlements and verdicts for our clients; allowing them to get the medical care they need and be justly compensated for their injuries. Our attorneys specialize in cases surrounding complex legal and medical issues. Fourteen of our attorneys hold a prestigious professional certification by the Supreme Court of New Jersey as Civil Trial Attorneys.
If you or someone you love was seriously injured in a dog attack, contact an experienced New Jersey dog bite lawyer at Blume Forte Fried Zerres & Molinari at 973-845-4421 today to protect your rights and receive a no-cost consultation on your case.
Frequently Asked Questions About New Jersey Dog Bite Injuries
How much does it cost to hire a dog bite lawyer?
The cost of a dog bite lawyer is going to depend on the results of your trial. At Blume Forte, our lawyers work on a contingency basis. We will only collect fees if compensation is recovered from your case. The fee amount will be a percentage of what you were awarded for your injuries. We also offer a free consultation where we can discuss any other fees and costs associated with hiring a lawyer.
What to do when a dog bite accident happens to you?
When you or a loved one is bitten by a dog you should seek immediate medical attention. You should get the contact information of the dog owner and any witnesses. Also, it is helpful to get pictures of the injury to use as evidence. In New Jersey dog owners are liable for attacks, so get an experienced personal injury lawyer to represent you.

What is the average AOP case worth?
The worth of your case will be dependent on the damages you've suffered from. Children and the elderly are most at risk and they can also experience significant injuries. Damages someone can face include scarring, infections, and pain and suffering. It's helpful to speak with a knowledgeable personal injury lawyer, who will give you a better understanding of your possible compensation.
ADDITIONAL INFORMATION