Stryker Hip Prosthesis Component Recall
LFIT V40 Femoral Heads
In August of 2016, Stryker, a manufacturer of various orthopedic medical products including hip prostheses (implants) used during hip replacement surgery, voluntarily recalled their Stryker LFIT Anatomic CoCr V40 Femoral Head components. Click here to see Stryker's notice of voluntary recall dated 8/29/16. This specific recalled component of the Stryker hip implant system, intended to replace a patient's femoral head, is the "ball" at the top of your femur or thigh bone. This femoral head "ball" sits in an artificial hip socket or "cup" (see illustration below). The recalled defective Stryker V40 femoral head components were manufactured before 2011 and have reportedly failed in numerous respects causing injuries and potential hazards to implant recipients.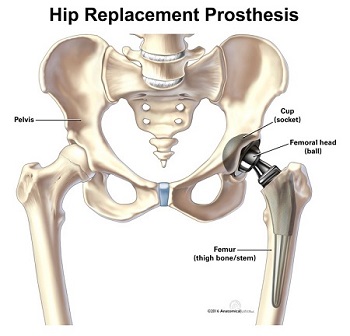 Injuries and hazards caused by this defective Stryker hip replacement implant include but are not limited to:
Disassociation of the femoral head from the rest of the hip stem prosthesis
Fractured hip replacement stem (the long part of the prosthesis which is placed in the thigh bone)
Excessive metallic debris resulting in metallosis (metallic particles in the blood stream which can cause bone and tissue death)
Lost range of motion of the hip joint
Noise during motion of the hip joint
Loosening of the implant due to insufficient fixation strength (pain)
Excessive/premature wear
Pain and inflammation
Hip dislocation and joint instability
Fracture of the bone at and about the implant
Leg length discrepancy
Some of the foregoing hazards and conditions may require the need for surgical intervention to revise and/or replace the Stryker hip implant, and possibly may require the need for treatment/monitoring of metallosis.
Communication is Key
Surgeons who performed the placement of these Stryker hip replacement implants were notified of the recall, and should advise all recipient patients accordingly. However, we encourage all recipients of any Stryker hip replacement hardware to communicate with their surgeons to determine if their hip implants are included in the referenced recall, and to arrange for appropriate evaluation and treatment if necessary.
Stryker hip replacement recipients may be entitled to monetary compensation relative to the foregoing issues.
Speak with a New Jersey Defective Medical Device Lawyer
Blume Forte has handled numerous defective medical product claims, including those of the nature described. If you or a loved one has received a Stryker LFIT V40 Femoral Head implant, please call us at 973-845-4421 for an evaluation of your potential claim.