New Jersey Dump Truck Accident Lawyer
Seasoned Personal Injury Lawyers Represent Injured Victims of Dump Truck Accidents in New Jersey
Due to their great size and mechanical complexity, dump trucks require a great deal of skill and care to safely operate on public roads and highways in New Jersey. Federal statistics show that dump trucks represent the second-highest number of injuries and fatalities out of all commercial vehicle-related accidents. Given the catastrophic and violent forces that a dump truck can impart in a collision with another vehicle, these statistics are not surprising. When injuries and fatalities result from a dump truck accident caused by the actions or omissions of truck operators, those parties deserve to be held accountable for the harm and losses they have inflicted. After you've been involved in a dump truck accident, turn to an experienced New Jersey dump truck accident lawyer at Blume Forte Fried Zerres & Molinari. Our legal team has several decades' worth of combined experience fighting to help injured accident victims like you pursue financial recovery and accountability from those at fault for a catastrophic accident. 
When you choose us to help in your case, we get to work quickly because we know that trucking companies and their insurers will do everything in their power to minimize the amount of money they have to pay for you. We can help you to level the playing field when negotiating with insurance adjusters and defense attorneys for a settlement that pays you fair and full compensation for your injuries and losses.
Contact our firm today for a free, no-obligation case review to learn more about your legal rights and actions after you've been injured in a dump truck accident and to discuss how we may be able to help you receive maximum financial compensation for your expenses and losses.
Why Dump Truck Accidents Occurs
There are numerous factors that can cause or contribute to a dump truck accident in New Jersey. Some of the most frequent causes of dump truck accidents include:
Excessive speeding
Unsafe turns
Failing to signal before turns or lane changes
Tailgating, or following another vehicle too closely
Fatigued or drowsy driving
Lack of training or driver's unfamiliarity with a truck
Broken or failing component, often due to deferred or improperly performed maintenance
Design or manufacturing defects in truck components
Many dump truck accidents arise when dump truck drivers and the companies that operate them disregard regulations issued by the Federal Motor Carrier Safety Administration and the state of New Jersey to ensure the safe operation of these vehicles on public roads. For example, drivers and companies may fail to perform required inspections, or drivers may exceed the hours-of-service limitations on their duty shifts.
Determining the cause or causes of a dump truck accident requires a thorough investigation by experienced legal professionals in coordination with accident reconstruction, engineering, and trucking industry experts.
"Words cannot express how tremendously grateful I am to Jeff Zenna for his sincere compassion and legal assistance during one of the most challenging times in my life."
"I just wanted to take some time to thank you and your team for all your help in the last 3 1/2 years. Your confidence, professionalism, knowledge, and efficiency in resolving this case have been greatly appreciated by my family and I. "
"You exhibited a genuine caring for my predicament and the outcome. These are all qualities that are prized in any professional relationship."
Our Lawyers Will Fight to Get You the Recovery You Deserve for Your Injuries
When a dump truck accident occurs, it isn't always immediately clear how the accident occurred or who can be held responsible. Investigating the causes and liable parties in a dump truck accident can often be a complex endeavor. That's why it is critical that you have the assistance of knowledgeable attorneys who know how to investigate and successfully pursue dump truck accident claims. Remember that with our firm, you never owe upfront fees for our services — we get paid only if and when we win compensation in your case.
At Blume Forte Fried Zerres & Molinari, our New Jersey dump truck accident lawyers will vigorously fight for your rights and interests when you've been injured through no fault of your own in a dump truck accident. Our firm takes the time to conduct our own investigation to ensure we have all available evidence, using our firm's resources, we explore every possible explanation for your accident to determine what happened and to identify those parties that can be held legally responsible to compensate you for your injuries and losses. Opposing parties know our reputation for never settling for anything less that the full compensation our clients deserve, and they know that our skilled litigators will pursue the best possible outcome for our clients all the way to court and to trial if necessary.
Contact an Experienced New Jersey Dump Truck Accident Lawyer at Blume Forte Fried Zerres & Molinari Today for a Free Case Review to Discuss Your Rights and Options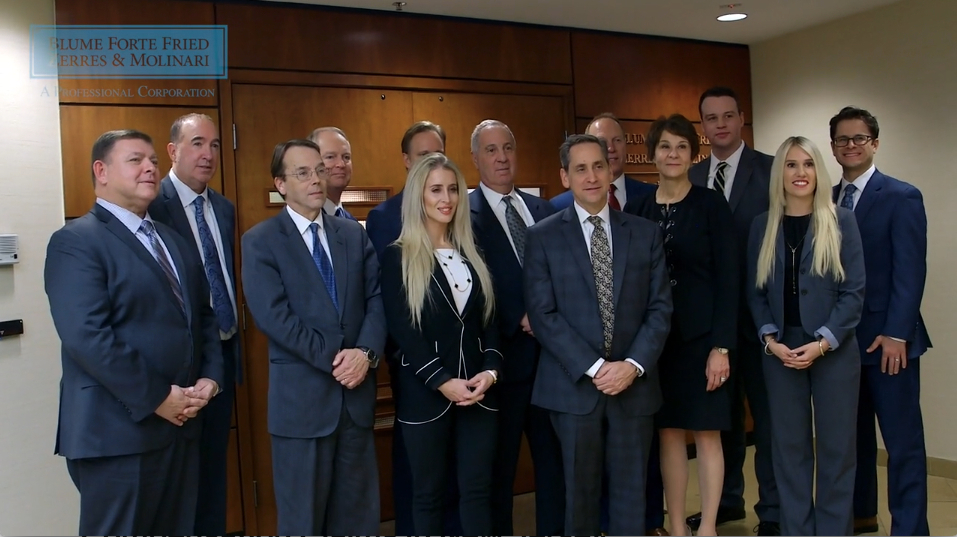 If you've been seriously hurt in a dump truck accident in New Jersey, Blume Forte Fried Zerres & Molinari can help you recover financial compensation to help with your treatment and getting back to your normal life. Contact our firm today for a free consultation to speak with our dedicated New Jersey dump truck accident lawyers about the next steps in seeking maximum compensation from those at fault for your accident and injuries.
Frequently Asked Questions about Dump Truck Accidents in New Jersey
How long do I have to file a claim for a dump truck accident?
Under New Jersey's statute of limitations, you are typically required to bring a lawsuit for compensation within two years of the date of a dump truck accident that caused you injury and/or property damage (minor children injured in a dump truck accident may have two years from their 18th birthday to file a lawsuit). If you file your suit after the limitations period on your claim has expired, the court will have grounds to permanently dismiss your case without even considering the merits of your claim, and you will lose your right to seek financial recovery in court.
What kind of compensation could I recover if I was injured in a dump truck accident?
The compensation you may be entitled to for a dump truck accident that wasn't your fault will often largely depends on the severity of your injuries; the more badly you are hurt, the more likely you are to receive compensation for different kinds of losses and the larger that amount of compensation will be. Examples of compensation available after a dump truck accident include costs of medical treatment and physical rehabilitation, long-term care costs for disabilities caused by the accident, lost income and earning potential, lost quality of life, pain and suffering, and loss of consortium.