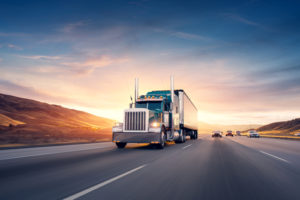 When a truck gets into an accident with another vehicle, it is sometimes surprising as to the list of people who could be held liable for the accident. This is because there are many different factors that can contribute to the cause of a truck accident. Below, we have compiled a list of those who can be held liable for injuries sustained or fatalities that occur as a result of a trucking accident. If you or a loved one has suffered injuries as a result of a truck accident, you should contact the offices of Blume, Forte, Fried, Zerres & Molinari today for a free consultation.
The New Jersey Truck Driver
The most obvious person to include as a defendant in a personal injury case concerning a truck accident is the truck driver. Truck drivers are often included as a defendant in truck accident personal injury claims because they are the ones who operated the truck and are the ones actually involved in the crash when it occurs. However, because truck drivers are sued in their individual capacities, if they are named as a defendant in a case, oftentimes they cannot afford to pay the damages you hope to recover from filing the case. Accordingly, other parties, with deeper pockets, can and should be named as defendants to a truck accident personal injury case as well.
The Truck Driver's Employer
One such entity with deeper pockets that can be held liable in a truck accident case is the driver's employer. If a driver is an employee of a trucking company, and not a mere subcontractor to said company, they can be held liable for truck accidents caused by the driver under three different theories of negligence: (1) negligent hiring; (2) negligent retention and supervision; and (3) respondeat superior.
NJ Companies That Broker Loads
When shipping companies need to ship cargo or freight to specific locations in the United States, that company will often need to hire a trucking company or a truck driver who operates as an independent contractor to carry the load. To avoid the hassle of locating and engaging a trucking company or independent contractor to carry their shipments, shipment companies will often hire third-party companies, or brokers, to find and schedule a truck driver to carry a load. If this occurs, the broker company can be held liable for injuries caused by the hired truck driver, if it can be proven that broker did not spend adequate time and effort ensuring that the truck driver is fit to perform the job and that truck driver causes an accident.
Truck Manufacturers/Truck Maintenance And Repair Companies in North Bergen, NJ
Sometimes, truck drivers are not to blame for causing an accident. If a truck has a design or manufacturing defect or the truck needs and receives inadequate repair and maintenance work, there may be nothing the truck driver can do to prevent an accident. Consequently, if a truck accident occurs, it is imperative that you ensure the cause of the accident was not due to a defect in the truck itself. If this is the case, then the truck manufacturer or the company that performs maintenance and repair work can be held liable for injuries and fatalities that occur in the truck accident.
Contact a Chatham Personal Injury Lawyer to Discuss Your Truck Accident Case in New Jersey
Did you or a loved one sustain serious injuries due to a truck accident in New Jersey? Don't let the medical bills pile up while you wait for the negligent party, or their insurance company, to do the right thing. Right now, you need an aggressive personal injury attorney on your side, fighting to get you the compensation you need, want, and deserve. The skilled attorneys at Blume Forte, Fried, Zerres & Molinari represent clients injured because of truck accidents in Parsippany, Hoboken, Jersey City, and Manalapan, and throughout New Jersey. Call 973-845-4421 or email us to schedule a free consultation about your case. We have an office conveniently located at One Main St, Chatham, NJ 07928, as well as our secondary offices in Jersey City, Sea Girt, and North Bergen.
The articles on this blog are for informative purposes only and are no substitute for legal advice or an attorney-client relationship. If you are seeking legal advice, please contact our law firm directly.