New Jersey Casino Accident Lawyer
Dedicated New Jersey Casino Accident Lawyer Advocates on Behalf of Injured Clients
While casinos are a popular entertainment destination in New Jersey, guests regularly suffer injuries in accidents that happen on casino grounds. Where a casino accident arises due to some condition of the property or the negligence of casino staff, an injured guest may be entitled to pursue financial recovery from the casino and other liable parties. A New Jersey casino accident lawyer can effectively guide injured victims through the legal process.
Since our firm's founding in 1929, the attorneys of Blume Forte Fried Zerres & Molinari have built a proven reputation for obtaining top verdicts and settlements for injured clients throughout New Jersey. Over the last five years alone, we have recovered more than $320 million in settlements and verdicts that each exceeded a recovery of $350,000. We believe that when you have been hurt due to no fault of your own, you shouldn't have to bear the financial consequences of your injuries. You deserve to recover compensation and justice for the personal loss you have suffered as well.
Contact our firm today for a free case evaluation to speak with a skilled New Jersey casino accident lawyer to learn more about how our firm can assist you with the process of pursuing a legal claim for compensation from those responsible for the injuries you suffered in a casino accident.
Examples of Common Casino Accidents in New Jersey
Casino accidents usually arise due to some dangerous or hazardous condition of the casino property. Common examples of the types of premises liability accidents that happen to guests in casinos include:
Slip and fall accidents – Slip/trip and fall accidents are some of the most commonly occurring accidents at casinos. Guests can slip on spilled drinks or food, on recently mopped or waxed floors, or on snow and ice outside walking into the casino. Tripping accidents may result from wires or cords strewn across walking paths, torn carpets or rugs, broken staircases, or broken or uneven pavement and walkways. 
Elevator/escalator accidents – Elevator and escalator accidents are another commonly occurring type of accident in casinos. These types of accidents usually happen due to inadequate maintenance of elevator and escalator equipment, or due to design or manufacturing defects in the equipment. Casino guests may be crushed in elevator doors that prematurely close, or may trip or get stuck in an escalator that collapses under a guest. 
Parking lot accidents – Casino parking lots are an area where guests may be injured as vehicles come in and out of the lot or garage. The casino may be liable for these accidents where they occur due to negligent design or inadequate maintenance (such as broken lighting), or where a guest is hit by a vehicle being driven by a valet. 
Food poisoning – Guests may also suffer injury from eating contaminated food from casino restaurants or buffets. Bad food may include food that has been spoiled or prepared in a kitchen not following proper food safety rules. 
Negligent security – With money and alcohol being prevalent in a casino, it creates a perfect mix for people to engage in criminal or violent behavior. Innocent victims of that behavior may have a claim against the casino where criminal activity or violence is facilitated due to negligent security, including lack of lighting, security cameras, locks or keycard access, or trained security personnel. 
"Words cannot express how tremendously grateful I am to Jeff Zenna for his sincere compassion and legal assistance during one of the most challenging times in my life."
"I just wanted to take some time to thank you and your team for all your help in the last 3 1/2 years. Your confidence, professionalism, knowledge, and efficiency in resolving this case have been greatly appreciated by my family and I. "
"You exhibited a genuine caring for my predicament and the outcome. These are all qualities that are prized in any professional relationship."
Let a Trusted New Jersey Casino Accident Lawyer from Blume, Forte, Fried, Zerres & Molinari Handle All the Aspects of Your Case
Pursuing a legal claim against the big corporations that own and run casinos can seem like an intimidating prospect. Turn to a New Jersey casino accident lawyer from our firm to help you prepare and pursue your case. You can trust that an attorney from our firm will:
Thoroughly investigate the accident to recover all available evidence, reviewing the evidence (including with expert witnesses) to determine what caused the accident and your injuries and who can be held liable to you.
Identify all potential sources of complications, including liable parties and applicable insurance coverages.
Present your claims for compensation to the casino and other at-fault parties, aggressively pursuing a negotiated settlement with the insurance adjusters and defense lawyers.
Taking your claims to court by filing a lawsuit when the other side won't offer you fair and full compensation in a settlement.
Advocating on your behalf at trial if your case proceeds that far.
Contact Our Firm for a Free Case Review to Learn More about How a New Jersey Casino Accident Lawyer Can Make a Difference in Your Claims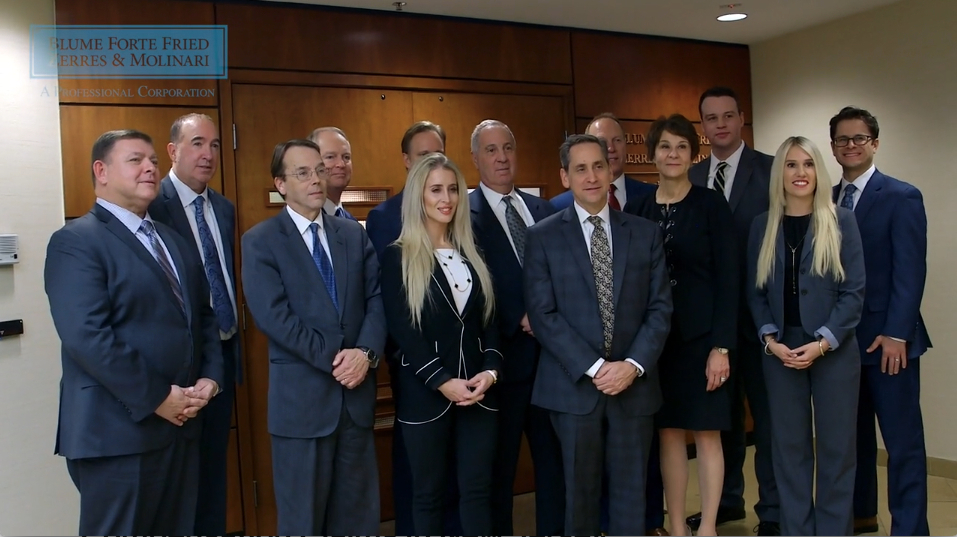 When you have been hurt at a casino, turn to Blume, Forte, Fried, Zerres & Molinari for help in recovering compensation for your expenses and losses. Reach out to us today for a free initial consultation to discuss your legal rights and options for pursuing a claim for compensation with a knowledgeable New Jersey casino accident lawyer.
Frequently Asked Questions about Casino Accidents in New Jersey
FAQ: When should I file a casino accident lawsuit?
The statute of limitations under New Jersey law gives you only two years from the date of the accident to file a personal injury lawsuit against the casino and other liable parties for your injuries and losses. If you wait too long to file a lawsuit in your case, you risk filing an untimely suit that can be permanently dismissed by the court, losing you the right to pursue financial recovery from those at fault for the harm you have suffered.
FAQ: Will I have to go to court in my casino accident case?
Although it can be difficult to predict whether your case will end up being filed as a lawsuit or going to trial, most injury cases are settled long before reaching trial or even seeing the inside of a courtroom. Our attorneys will work diligently to secure maximum compensation for you as efficiently as possible through a negotiated settlement. But we also have the courtroom experience necessary to pursue your rights and interests in court, if litigation becomes necessary to give you the best opportunity for a fair and full financial recovery. Our firm will provide honest advice when we believe going to court is the right step in your case.