New Jersey Commercial Vehicle Accident Lawyer
Experienced Attorneys Protect the Rights and Interest of Victims of Commercial Vehicle Accidents Throughout New Jersey
Commercial vehicles are responsible for thousands of fatalities and tens of thousands of injuries from accidents every single year. As much as half of all commercial vehicle accidents are due to the error or negligence of the driver of the commercial vehicle, including due to traffic violations, careless driving, fatigue, distracted driving, or impairment from alcohol or drugs. When these completely avoidable accident triggers happen, the operators of commercial vehicles can be held accountable to compensate the injured victims of the accident for their losses. At Blume Forte Fried Zerres & Molinari, our lawyers have several decades' worth of combined experience winning compensation on behalf of our clients who have been injured through no fault of their own in commercial vehicle accidents across New Jersey. Contact an experienced New Jersey commercial vehicle accident lawyer to discuss your case.
Our attorneys fully explore the liability of each party involved in the operation of a commercial vehicle, including drivers, companies, and vehicle manufactures. We strive to ensure that you are fully compensated for all the losses you suffered due to the accident, including for medical expenses, lost wages and earning capacity, damage to your vehicle or other property damage, pain and suffering, and loss of enjoyment or quality of life due to your injuries.
Don't let another day go by without the financial compensation you deserve from those responsible for injuring you in a New Jersey commercial vehicle accident. Contact us today for a free case review to speak with an attorney about the facts and circumstances of the commercial vehicle accident you were involved in, and to learn more about how having our firm in your corner can make the difference in ensuring you receive fair and full compensation from those at fault for your harm and suffering.
How Commercial Drivers and Companies Can Be Held Liable for Commercial Vehicle Accidents
There are many examples of negligent or reckless actions or omissions that can trigger a commercial vehicle accident, including:
Speeding
Reckless driving, such as weaving in and out of traffic
Unsafe lane changes
Unsafe turns
Tailgating
Distracted driving, including texting-while-driving
Drowsy or fatigued driving
Inexperienced commercial vehicle drivers
Unfamiliarity with routes
Unsecured or unsafe vehicle loads
Deferred or negligently performed vehicle maintenance
Design or manufacturing defects in the vehicle or vehicle parts
When commercial vehicle drivers and companies commit any of these acts, they can be held responsible when an accident results.
In addition, many commercial vehicles are regulated under rules issued by the Federal Motor Carrier Safety Administration. These rules are intended to ensure that large and potentially dangerous commercial vehicles are safely operated on public roads. The regulations include size and weight limit for vehicles and hours-of-service restrictions on a driver's duty shifts and time behind the wheel. When commercial vehicle drivers and companies fail to follow these regulations, they can be held legally responsible for injuries and losses that result from an accident. The complexity of state and federal regulation of commercial vehicles highlights why it is important to hire an experienced attorney who can help you explore all your options for compensation.
"Words cannot express how tremendously grateful I am to Jeff Zenna for his sincere compassion and legal assistance during one of the most challenging times in my life."
"I just wanted to take some time to thank you and your team for all your help in the last 3 1/2 years. Your confidence, professionalism, knowledge, and efficiency in resolving this case have been greatly appreciated by my family and I. "
"You exhibited a genuine caring for my predicament and the outcome. These are all qualities that are prized in any professional relationship."
How Our Dedicated Lawyers Can Help You With Your Accident Claim
Determining how a commercial vehicle accident was caused and identifying those parties at fault for the crash can often be a complicated matter, requiring investigators to sift through numerous documents to ensure that all potential underlying causes for an accident have been considered. The commercial vehicle accident attorneys of Blume Forte Fried Zerres & Molinari have several decades worth of combined experience investigating these types of crashes. We know what evidence must be reviewed in these cases, and our firm has the resources to fully investigate every possible cause of your commercial vehicle accident.
Our firm has a reputation of successfully recovering maximum compensation for our clients. With our firm on your side, insurance companies and defense lawyers know that you have a legitimate claim. They also know that we won't back down until our clients get the full compensation they deserve, and that our skilled litigators are fully prepared to fight on our client's behalf all the way to court if necessary. Let our trusted New Jersey commercial vehicle accident lawyers make sure that you receive the full financial resources you deserve for the injuries and losses that you suffer from the accident, both now and into the future.
Contact an Experienced New Jersey Commercial Vehicle Accident Lawyer at Blume Forte Fried Zerres & Molinari for a Free Case Evaluation Today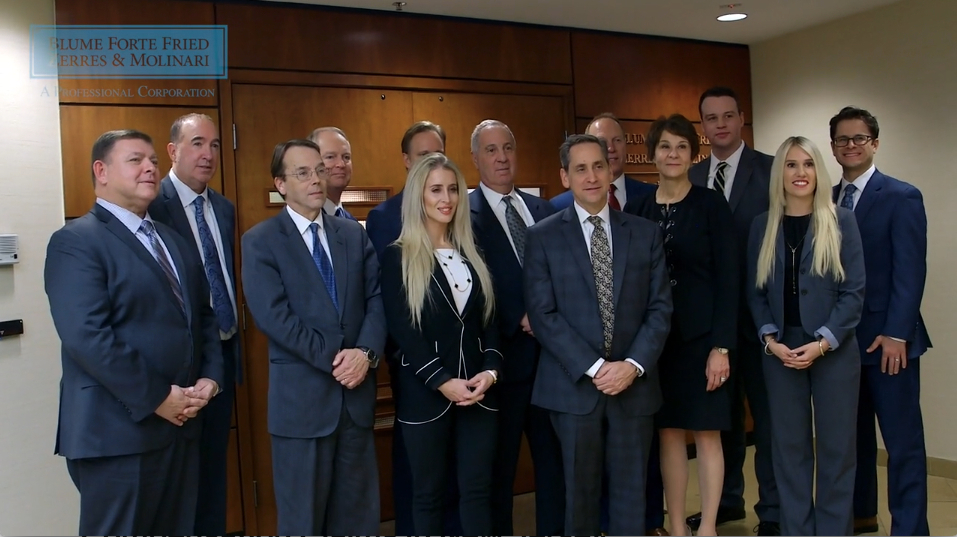 If you've been injured in an accident with a commercial vehicle, don't wait another day to start the process of pursuing financial compensation for your injuries and losses. Contact Blume Forte Fried Zerres & Molinari for a free consultation to go over the details of the accident with one of our experienced New Jersey commercial vehicle accident lawyers and to learn more about your rights and options for obtaining the recovery you deserve after you've suffered harm from an accident that wasn't your fault.
Frequently Asked Questions about Commercial Vehicle Accidents in New Jersey
What are some examples of commercial vehicles?
Examples of commercial vehicles may include limousines, taxis, delivery vehicles, larger passenger vans, plows, and heavy work trucks. These vehicles are usually operated by companies who employ or contract with drivers to drive the vehicles.
Can someone other than the commercial vehicle driver be held liable for an accident?
Yes. In a commercial vehicle accident, there may be parties other than the vehicle's driver who can be held at fault for the crash. For example, the company that operates the commercial vehicle may be subjected to employer liability if it employs the negligent driver who causes a crash; the company might also be held responsible for its own direct negligence in hiring, training, retaining, and supervising a negligent driver, or in negligently deferring required maintenance on the vehicle if that causes or contributes to an accident. The vehicle's mechanic can also be held responsible for negligent maintenance that leads to an accident. Finally, the vehicle's manufacturer (or a part manufacturer) is liable for defects in the vehicle that cause an accident.