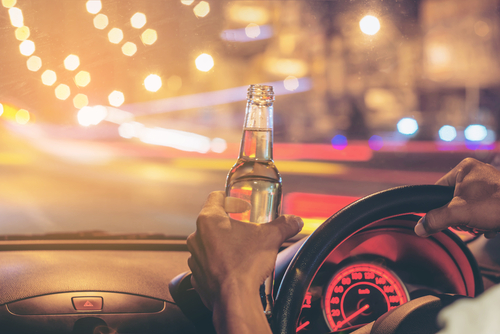 If you've been hit by a drunk driver, you deserve to seek financial compensation for your injuries and losses that you've incurred through no fault of your own. Although pursuing a legal case against a drunk driver seems relatively straightforward, pursuing any claim through the civil justice system can present its own unique aspects and challenges.
Can I Hold a Drunk Driver Responsible for My Car Accident?
Yes. If you've suffered personal injury and/or property damage in an accident involving a drunk driver, you can usually sue that driver for compensation. Drunk driving is considered per se negligence — that is, the drunk driver was negligent because he or she broke the law driving under the influence of alcohol. Of course, it is entirely possible that the accident wasn't actually caused by the drunk driver, which is why it is important to hire a knowledgeable personal injury attorney to vigorously advocate on your behalf to get you the full compensation possible in your claim.
Hiring an Attorney for a Drunk Driving Accident Claim
Retaining a Hackensack personal injury lawyer will put you in the best position for securing maximum compensation for your injuries and losses. An experienced attorney will know how to investigate a drunk driving accident, including securing police accident reports, toxicology reports, accident scene photos, and eyewitness statements. If responsibility for the accident is contested, a knowledgeable attorney can help you navigate New Jersey's negligence laws to help you obtain the maximum recovery possible in your case.
Holding Other Parties Liable for a Drunk Driving Accident
Under New Jersey law, other parties can also be held liable if you suffer injuries or property damage in a car accident caused by a drunk driver. Specifically, the state's dram shop law prohibits commercial establishments from serving alcohol to patrons under the age of 21 or who appear to be "visibly intoxicated." If an establishment serves an underage or visibly intoxicated customer, who then goes on to cause injury to someone else, the injured victim is entitled under the dram shop law to sue the establishment who negligently served someone who caused a drunk driving accident, in addition to the drunk driver themselves. 
Read more: Photographs To Take After A Car Wreck In Camden, NJ
Staying Mindful of Time Limitations on Your Claim
A drunk driving accident can leave you with catastrophic injuries that can take a long time to heal. Although you might be tempted to wait until you've made a full recovery to pursue your drunk driving accident claim, so that you can be sure you know the full extent of your losses, the law actually limits the time you have to file a lawsuit against the party or parties liable for your injuries and losses. New Jersey's statute of limitations typically requires you to file your lawsuit against the drunk driver (and other parties, if applicable) within two years of the date of your accident. There are limited circumstances where this time limit is extended; for example the statute of limitations does not begin to run for minor children until they turn 18. If you fail to file your lawsuit before the statute of limitations expires on your claim, the court will have grounds to permanently dismiss your case if and when you do finally sue.
Read more: Helpful Tips To Deal With The Insurance Company After An Accident
Contact a Chatham Personal Injury Lawyer to Discuss Your Drunk Driving Accident Case in New Jersey
Did you or a loved one sustain serious injuries due to drunk drivers in New Jersey? Don't let the medical bills pile up while you wait for the negligent party or their insurance company to do the right thing. Right now, you need an aggressive personal injury attorney on your side, fighting to get you the compensation you need, want, and deserve. The skilled attorneys at Blume, Forte, Fried, Zerres & Molinari represent clients injured because of drunk drivers in Bayonne, Hoboken, West New York, Kearny, and throughout New Jersey. Call 973-845-4421 or email us to schedule a free consultation about your case. We have an office conveniently located at One Main St., Chatham, NJ 07928, as well as offices in Jersey City, Sea Girt, and North Bergen.
The articles on this blog are for informative purposes only and are no substitute for legal advice or an attorney-client relationship. If you are seeking legal advice, please contact our law firm directly.