New Jersey In-Store Slip & Fall Accident Lawyer
Our Dedicated Team of Legal Professionals Can Help You File a Compensation Claim for a Slip and Fall Accident in a Retail Store in New Jersey
Slip and fall accidents can be life-changing. Especially with older populations, a slip and fall can lead to a traumatic brain injury, back and neck injuries, spinal cord damage, internal bleeding, and carpal tunnel injuries. Slips and falls are a leading cause of death in the United States, and they are common in public places, especially in retail locations such as Walgreens, CVS, ShopRite, Walmart, Home Depot, and Lowes. If you or a loved one suffered injuries from a slip, trip, or fall in a retail store in New Jersey, an experienced in-store slip & fall accident lawyer can help you pursue financial compensation to cover your financial losses and medical bills associated with the accident.
Depending on how your in-store slip and fall accident occurred, you may have grounds for a personal injury claim or lawsuit against the at-fault party responsible for your fall. At Blume Forte Fried Zerres & Molinari, our New Jersey retail store slip & fall accident lawyers can help you investigate the case to determine who was at fault for your fall and how much compensation you may be entitled to. With several decades worth of combined experience, we have worked tirelessly to help slip and fall accident victims in New Jersey secure the compensation they deserve. Contact us today for assistance with your slip and fall accident case.
Understanding the Impact Of Slip & Fall Accidents in Stores Across New Jersey
Overall, the elderly are disproportionately affected by slip and fall accidents for a variety of contributing health factors, however, anyone can become the victim of a slip and fall accident anytime, anywhere. In fact, the Centers for Disease Control and Prevention (CDC) has found that:
About 35 million adults suffer injuries from slip and fall accidents every year.
Over 30,000 adults die every year from a slip and fall and the injuries sustained therein.
About three million adults end up visiting the emergency room to treat slip and fall injuries.
Slip and fall accidents are a leading cause of traumatic brain injuries (TBIs).
Medical costs associated with slip and fall accidents in 2015 were estimated to be over $50 billion.
In addition to the $50 billion estimated by the CDC, the National Institute for Occupational Safety and Health (NIOSH) estimates that workplace slip and falls cost businesses, workers, and the public about $70 billion every year.
These are alarming facts, but as mentioned above, it is not only the elderly who suffer from slip and fall accidents. The Occupational Health and Safety Administration (OSHA) found that there were about 5,000 workplace fatalities in the United States in 2018, and about 20% of these fatalities were caused by falls, with thousands more non-fatal injuries reported every year.
This becomes especially apparent in retail stores that do not maintain a reasonably safe premises for the protection of their customers or their employees. When a slip and fall accident happens at a department store, grocery store, or even a local "mom and pop", the business may be liable for injuries if it can be shown that the slip and fall occurred due to unsafe conditions on the property. If you or a loved one suffered injuries in a retail location such as Walgreens, CVS, ShopRite, Walmart, Home Depot, or Lowes, you should contact our dedicated in-store slip & fall accident lawyers for a free case evaluation so we can determine the cause of your accident and help you recover the compensation you deserve.
"Words cannot express how tremendously grateful I am to Jeff Zenna for his sincere compassion and legal assistance during one of the most challenging times in my life."
"I just wanted to take some time to thank you and your team for all your help in the last 3 1/2 years. Your confidence, professionalism, knowledge, and efficiency in resolving this case have been greatly appreciated by my family and I. "
"You exhibited a genuine caring for my predicament and the outcome. These are all qualities that are prized in any professional relationship."
Common Causes Of Retail Store Slip and Fall Accidents
A slip and fall accident is never planned, but the reckless and negligent actions of a store that opens its doors to the public and does not keep its property reasonably safe is a common cause in New Jersey. Here are some of the ways you can slip and fall and sustain serious injuries in a retail store slip and fall accident:
An accumulation of snow or ice in the entryway of the store
Frayed, torn, or worn carpeting
Slippery surfaces such as rugs or floor mats
Poor training, especially of retail workers
Items on display (haphazardly placed) falling in the path of a customer
Spills left to puddle in an aisle
Poor signage regarding floor hazards
Cracked or uneven surfaces
Poor lighting leading to poor visibility
Poor floor maintenance
Cluttered or obstructed walkways
Many public safety standards apply to public places such as Walgreens, CVS, ShopRite, Walmart, Home Depot, and Lowes. A failure by any of these entities to prevent slip and fall accidents – whether they involve visitors, delivery people, workers, or others – can lead to not only serious injuries but a premises liability case against the at-fault party in question. Our New Jersey in-store slip & fall accident lawyers are here to help you fight for the compensation you are entitled to.
Determining Fault And Liability For Store Slip And Fall Accidents
You can file a compensation claim or sue for damages if you can prove that another party such as a retail store:
Owed you a duty of care of maintaining clean, safe, and hazard-free premises.
Failed to fulfill the duty of care in some way.
Caused you to suffer an accident that led to quantifiable losses or damages.
To identify the at-fault party, you must gather evidence such as:
Video footage of the accident
Proof of tardy maintenance
A lack of compliance with mandatory safety standards
Complaints filed by others regarding the hazard that led to your accident
Eyewitness testimony regarding the accident
Contact A New Jersey In-Store Slip & Fall Accident Lawyer Today For Legal Guidance Regarding Your Case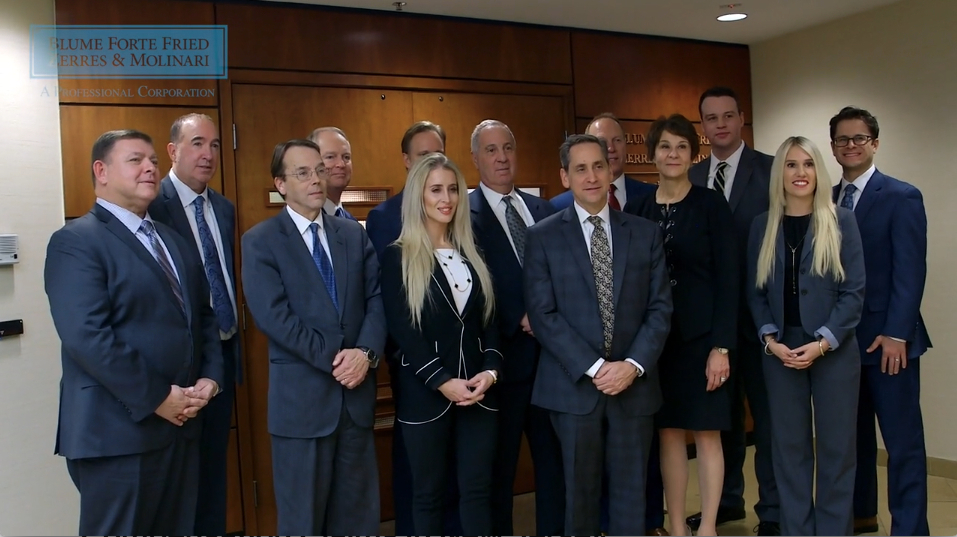 Any person who suffers a slip and fall accident-related injury at a "big box" nationwide chain like Walgreens, CVS, ShopRite, Walmart, Home Depot, or Lowes may have a valid case against the business, but the process may not always be a smooth one. The legal responsibility of the store will depend on whether it had reasonable notice of the unsafe condition and a chance to fix it, among other, more complicated, factors. This is why you need the experienced legal guidance of a qualified slip and fall accident lawyer to advocate on your behalf. At Blume Forte Fried Zerres & Molinari we can help you:
Identify the cause or causes of your accident.
Determine who was at fault for your accident.
Obtain the proof needed to substantiate your claims.
Understand the laws and insurance rules that apply to your case.
Negotiate with the at-fault party and any insurance adjusters on your behalf.
Contact our office to learn more about your rights and options following an in-store slip & fall accident. Consultations are always free with a dedicated attorney at our firm. Call now or fill out our convenient online contact form to get started today.
Frequently Asked Questions (FAQs) About New Jersey In-Store Slip & Fall Accidents
Are in-store slips & fall accidents in New Jersey a type of premises liability?
Yes. There are different local, state, and federal premises liability laws that may apply to your case based on how and where you suffered an accident. For example, if you were bitten by a dog at a friend's home, you will likely be covered by your friend's home or renter's insurance. However, a slip and fall on retail premises will be judged based on the liability coverage of the owner or operator of the retail property in question.
What can I get compensated for after an in-store slip & fall accident?
An in-store slip and fall accident can result in traumatic brain injuries, spinal cord injuries, head/neck/back injuries, nerve damage (including torn, stretched, and pinched nerves), injuries involving bones/muscles/ligaments, and internal bleeding and organ damage. These types of injuries can prevent you from working and can lead to substantial care and treatment expenses in the future. When the slip and fall accident is the result of negligence, you can include expenses related to all of these injuries in your personal injury claim.

Other damages you may be able to seek compensation for include pain and suffering, lost income, rehabilitation costs, ambulance fees, medication costs, the costs of assistive devices, as well as incidental expenses such as care or cleaning services at home while you are unable to care for yourself.