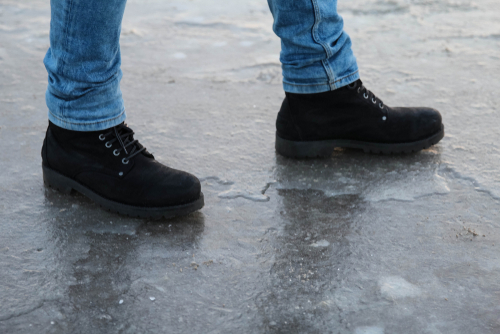 The winter season in New Jersey means the return of black ice. Black ice is one of the leading causes of accidents during winter. Black ice refers to thin, clear ice that forms on paved surfaces; the translucent or transparent color of the ice makes it difficult for someone to notice the ice.
Black ice commonly causes slip and fall accidents across New Jersey. Slip and fall accidents on black ice can lead to a wide variety of injuries, including bruises, lacerations, broken bones, sprains and tears, dislocated joints, and head and traumatic brain injuries if a person hit his or her head during a fall. 
If you or a loved one suffer a slip and fall on black ice on someone else's property, you or your loved one may be entitled to hold the owner of the property or business where your accident occurred accountable.
Read more: Everything You Need To Know About Premises Liability Laws In NJ
How Property Owners Should Protect Others from Black Ice Slip and Fall Accidents
The law generally requires property and business owners to keep their premises free of black ice hazards. While this duty does not require owners to undertake removal efforts while a winter storm is ongoing — the law recognizes that trying to clear up snow and ice while it is still falling is simply impractical — owners are still required to take steps before and after winter storms to protect visitors and passers-by from black ice slip and fall accidents. Before a storm hits, these steps might include:
Breaking up sheets of ice that have formed on sidewalks, walkways, driveways, or other paved surfaces
Putting down rock salt or de-icer, which will cause ice to melt
Sprinkling sand over ice that cannot be removed, which will help give pedestrians traction if they have to walk on the ice
Following a winter storm, many municipalities in New Jersey require property and business owners to shovel snow and put down salt or sand on walkways within a certain time after the storm's end.
Read more: Why Slips And Falls Increase During Winter
Holding a Property Owner Liable for a Black Ice Slip and Fall Injury
When a property or business owner fails to take reasonable measures to treat or remove black ice or otherwise help to protect people from slip and fall accidents on their premises caused by black ice, the owner may be held liable for any injuries and damages that result from a slip and fall.
Generally, the law will impose liability on a property or business owner for an accident caused by black ice on their premises when:
The black ice existed on the premises for sufficient time to accumulate to the extent that it posed an unreasonable hazard to lawful visitors to the property
The property or business owner discovered or was given notice of the presence of black ice on the property
The property or business owner create the black ice (for example, installing a gutter downspout that drained onto the sidewalk)
When any of these conditions occur and the property or business owner fails to take reasonable steps to remedy the black ice, they might be held liable for injuries and damages that result from a slip and fall accident.
Contact a Chatham Personal Injury Lawyer to Discuss Your Slip and Fall Case in New Jersey
Did you or a loved one sustain serious injuries due to a slip and fall in New Jersey? Don't let the medical bills pile up while you wait for the negligent party or their insurance company to do the right thing. Right now, you need an aggressive personal injury attorney on your side, fighting to get you the compensation you need, want, and deserve. The skilled attorneys at Blume Forte Fried Zerres & Molinari represent clients injured because of slip and falls in Parsippany, Mount Olive, Rockaway, Jersey City, and throughout New Jersey. Call 973-845-4421 or fill out our online contact form to schedule a free consultation about your case. We have an office conveniently located at One Main Street, Chatham, NJ 07928, as well as offices in Jersey City, Sea Girt, and North Bergen.
The articles on this blog are for informative purposes only and are no substitute for legal advice or an attorney-client relationship. If you are seeking legal advice, please contact our law firm directly.