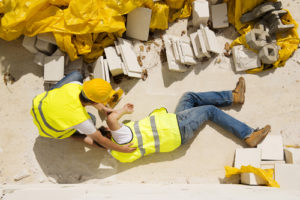 All indicators point towards New Jersey's construction industry experiencing massive growth in the next few years. This is great news for businesses and individuals who are seeking employment in the construction field.
Are you considering joining the industry? If so, then it's important to stay on top of the latest safety regulations. Learn about the top four construction-related accident types that happen in New Jersey below.
Slip and Fall Accidents
The number one hazard construction workers need to be aware of are slip and fall accidents. A construction worker often works from a height when they're on roofs, ladders, scaffolding or cranes. Always use a safety harness if you're doing roof work or climbing at high heights. A slip and fall can lead to severe injuries like:
Broken bones
Contusions
Strains and sprains
Spinal cord injuries
It's important to visit your doctor after you've suffered a slip and fall accident. Some signs and symptoms of severe conditions won't be apparent right away.
Getting Struck by a Falling Object
The second most common type of constructed-related accident in New Jersey is getting struck by a falling object. From unsecured loads to debris, there's a lot of different objects that can fall on a construction site. That's why most construction areas require the use of a hard hat and steel-toed shoes. This type of safety equipment can protect you from getting seriously injured by a falling object at the worksite, but it's not a fool-proof solution. Despite safety equipment, you can still sustain a significant injury from a falling object.
Overexertion
Construction workers often suffer overexertion injuries like overheating, repetitive strain injuries or straining their muscles. If you're a construction worker, then always make sure you're staying hydrated and not working too hard.
Equipment-Related Accidents
Construction workers also use a lot of power tools and heavy equipment. One wrong move can lead to an amputated finger or a nail through your hand. Heavy machinery is also inherently dangerous, but it's used a lot in the construction field. Take extra care when you're using power tools or equipment, and always wear your safety gear.
Contact a Chatham Personal Injury Lawyer to Discuss Your Construction Accident Case in New Jersey
Did you or a loved one sustain serious injuries due to a construction accident in New Jersey? Don't let the medical bills pile up while you wait for the negligent party or their insurance company to do the right thing. Right now, you need an aggressive personal injury attorney on your side, fighting to get you the compensation you need, want, and deserve. The skilled attorneys at Blume Forte Fried Zerres & Molinari represent clients injured because of construction accidents in Chatham, Jersey City, North Bergen, Sea Girt and throughout New Jersey. Call 973-845-4421 or fill out our online contact form to schedule a free consultation about your case. We have an office conveniently located at One Main Street, Chatham, NJ 07928 as well as offices in Jersey City, Sea Girt, and North Bergen.
The articles on this blog are for informative purposes only and are no substitute for legal advice or an attorney-client relationship. If you are seeking legal advice, please contact our law firm directly.