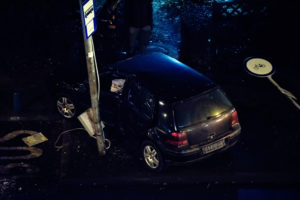 When most people think about motor vehicle accidents and the personal injuries that follow, they tend to think primarily about how the drivers in the crash performed. However, decades of research has shown that engineering flaws with simple and well-known fixes can lead to a lifetime of pain and suffering or even death. Unfortunately, many manufacturers have learned the wrong lesson from the results of standardized crash testing performed by the industry and government. Rather than applying test results to make their cars safer overall, some manufacturers only use the information to pass the tests.
This fact was highlighted in the results of recent crash tests of midsize SUVs performed by the Insurance Institute for Highway Safety (IIHS) on the passenger side of SUV's. Historically, many crash tests were only done on the driver side of a vehicle to allow for standardization of testing and to reduce costs. One might assume that the manufacturers applied what they learned in those driver side crash tests to make all occupants safe. However, even with the existing diver side data, the IIHS discovered a number of passenger side problems ranging from structural collapse and hard blows to the dummy's head to the failure of airbag deployment on passenger side crash tests.
Safety Problems in Crashes Mean Catastrophic Injuries
The midsize SUVs in this study were tested according to different categories of passenger injury measures. These included head and neck, chest, hip and thigh, and lower leg and foot. The vehicles were run through a small overlap crash, which occurs when the front corner of the vehicle (passenger side) strikes another vehicle or object, like a utility pole.
One SUV received a poor rating after its structure was seriously compromised in the test. Intrusion on the passenger side reached as much as 15 inches and the crash dummy revealed a likelihood of injuries to the right hip. In addition, in a real-world crash, a passenger would be likely to suffer serious leg injuries. Even more alarming results were found after testing another SUV. The dummy's head hit the dashboard with force through the front airbag. Additionally, the side curtain airbag did not even deploy and the door opened. Measures of the dummy following the test revealed injuries that would likely affect the right leg as well as the head.
Head injuries in car accidents can result in what is commonly referred to as traumatic brain injuries or TBI. These brain injuries can involve skull fractures, concussions, hemorrhaging and cerebral contusions. These injuries can be permanently debilitating, leaving a person unable to work or do things they were able to do before an accident. If injured in a motor vehicle accident because of a negligent driver, you have the right to pursue legal compensation by holding the negligent party responsible for their actions. You also have the right to hold car companies accountable for their failures in design and manufacture.
NJ Attorneys Can Help Get You Full Compensation in Your Case
After a serious accident, you will need an experienced car accident attorney in order to hold the negligent party accountable for their actions. In New Jersey, the attorneys at Blume Forte Fried Zerres & Molinari have the experience and tools to help with your case.
In addition to motor vehicle accidents, the dedicated New Jersey attorneys at Blume Forte Fried Zerres & Molinari handle product defect cases as well. Personal injuries can stem from car crashes, motorcycle accidents, slips and falls, birth injuries, assaults, construction site accidents, and more, but often the legal caused of the injury can be hidden from the untrained eye. Defective products can make an injury worse, or cause an injury that otherwise would not have occurred
To contact the attorneys at Blume Forte and receive your free case evaluation all you have to do is fill out their online contact form. They will help guide you towards physical, emotional and financial recovery.
The articles on this blog are for informative purposes only and are no substitute for legal advice or an attorney-client relationship. If you are seeking legal advice, please contact our law firm directly.
Related Blogs: