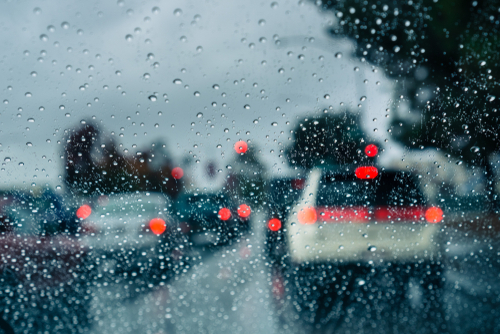 Of the tens of thousands of motor vehicle accidents that occur in New Jersey every year, weather plays a role in many crashes. According to the U.S. Department of Transportation, approximately one quarter of all motor vehicle accidents nationwide are caused by adverse weather.
Weather Conditions That Frequently Contribute to Motor Vehicle Accidents
Some of the most common weather conditions that lead or contribute motor vehicle crashes in New Jersey include:
Wet pavement — recent rains can bring motor vehicle oils to the road surface, creating slick surfaces
Rain — heavy rains can reduce visibility and create standing water that increases the risk of hydroplaning (when tires lose contact with the road surface)
Snow and sleet and ice, which can make it easier for vehicles to lose control
Black ice and freezing conditions, which are very difficult to see and can cause vehicles to lose control if they hit a patch of black ice
Fog — fog greatly reduces visibility, while improper use of headlights can impair the visibility of drivers in front or oncoming drivers
Read more: Tips For New Jersey Cold Weather Driving
Getting Insurance Coverage for a Weather-Related Accident
Because New Jersey is a no-fault state, you will be entitled to at least some insurance coverage if you are involved in a weather-related accident. New Jersey drivers are required to carry at least $15,000 in personal injury protection coverage as part of their motor vehicle insurance policy, which is payable regardless of who may have been at fault for an accident or even if no one is responsible for causing an accident. 
Read more: Helpful Tips To Deal With The Insurance Company After An Accident
Can Other Drivers Be Held Responsible in Weather-Related Accidents?
Even though adverse weather may be an important factor in causing a motor vehicle accident, depending on the circumstances of a crash it may be possible to hold one or more motorists responsible for a crash despite the presence of adverse weather conditions. For example, if bad weather leads to poor road conditions, it may be possible to hold a driver responsible for a crash, even if he or she was driving within the speed limit, if he or she was traveling at a speed that was unsafe for the conditions — in snow, ice, or heavy rain, or in heavy fog, it is often considered reasonable to drive below the speed limit in order to avoid a situation where one's vehicle spins out of control. Drivers may also be held responsible for not preparing their vehicles for certain weather conditions (for example, leaving summer performance tires on a vehicle during the winter).
Weather can play a part in reducing or shifting liability among motorists involved in an accident. This is why it is important, if you have been involved in a motor vehicle accident, to speak with an experienced personal injury attorney. A lawyer can not only help you access personal injury protection coverage under your own insurance to begin paying for medical expenses and lost wages, but also review your case to determine what part adverse weather conditions may have played in causing your crash and identify which party or parties may bear legal liability to you for your injuries and damages.
Contact a Chatham Personal Injury Lawyer to Discuss Your Motor Vehicle Accident Case in New Jersey
Did you or a loved one sustain serious injuries due to a motor vehicle accident in New Jersey? Don't let the medical bills pile up while you wait for the negligent party or their insurance company to do the right thing. Right now, you need an aggressive personal injury attorney on your side, fighting to get you the compensation you need, want, and deserve. The skilled attorneys at Blume Forte Fried Zerres & Molinari represent clients injured because of motor vehicle accidents in Parsippany, Mount Olive, Rockaway, Union City and throughout New Jersey. Call 973-845-4421 or fill out our online contact form to schedule a free consultation about your case. We have an office conveniently located at One Main Street, Chatham, NJ 07928, as well as offices in Jersey City, Sea Girt, and North Bergen.
The articles on this blog are for informative purposes only and are no substitute for legal advice or an attorney-client relationship. If you are seeking legal advice, please contact our law firm directly.