David M. Fried
Of Counsel
View my significant recoveries
*Results may vary, depending on your particular facts and circumstances.
Awards & Accolades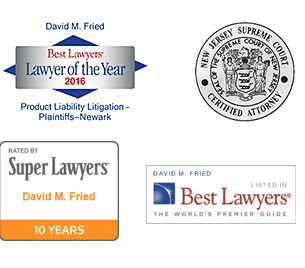 ---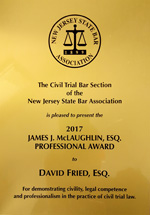 Designated as a Super Lawyer 2005 – 2022 (18th-consecutive year listed in Super Lawyers) in the fields of personal injury, medical malpractice & product liability and listed in the Top 100: 2022. He was also listed in Best Lawyers 2007 – 2017. David was selected by Best Lawyers as Lawyer of the Year in 2016 for his work in Product Liability Litigation. He was also named the recipient of the James J. McLaughlin Award from the New Jersey State Bar Association for Demonstrating Civility, Legal Competence, and Professionalism in the practice of Civil Trial Law.
Selection Process & Criteria
Click here for Super Lawyers selection process information.
Click here for Best Lawyers selection process information.
Click here for Lawyer of the Year selection process information.
Click here to view Mr. Fried's Avvo Profile/Rating and click here to view the AVVO rating process.
Attorney Bio
David Fried is Certified by the Supreme Court of New Jersey as a Civil Trial Attorney and focuses his practice on liability claims of those injured due to auto accidents, slip and falls, medical malpractice, aviation and construction accidents, and lead poisoning. David has extensive experience representing workers injured because proper safety equipment was not provided on the job site, and he also handles a significant amount of medical negligence claims surrounding brachial plexus injuries sustained at birth.
David has worked extensively with construction experts to establish clear theories of negligence and responsibility at construction sites where employees of subcontractors suffer severe injuries due to the lack of adequate safety equipment or safe working conditions. Many of these cases have involved carpenters and ironworkers who fell from heights where they were not furnished with adequate fall protection. David has been successful in proving the responsibility of the General Contractor, Prime Contractor, Safety Coordinator, or other person or entity required to provide safety supervision of the Subcontractor's employees, despite the hotly contested claims of liability of the injured worker and his employer.
Significant Cases & Recoveries
David has resolved several construction site accident cases in excess of $500,000, including one for $900,000 for the death of an ironworker and another for $1.325 million for a construction worker whose scissor lift toppled and did not have an anti-tip device. David resolved another case for $1.37 million involving an electrical system blast that killed one worker and injured another. In that case, through extensive pre-suit investigation, David was able to prove that the blast occurred due to arcing because a steel rod had been left in an electrical box – through discovery, it was proved which defendants were responsible for this condition. David has also been successful in proving the responsibility of governmental entities that failed to properly supervise the work of trench workers employed by contractors on municipal projects.
Additionally, David has handled several medical malpractice birth injury cases involving brachial plexus injuries. He won a $1 million verdict from a Middlesex County jury on behalf of a six-and-a-half-year-old boy with a right arm brachial plexus injury where the delivery involved a shoulder dystocia (stuck shoulder during delivery). David established that the delivering obstetrician utilized excessive downward traction on the baby's head at the time one of the shoulders became stuck at delivery and caused a permanent injury to the boy's brachial plexus nerves, which control arm and hand function.
David has also handled and been successful in many other medical malpractice cases involving anesthesia, surgery, failure to diagnose cancer, improper medication, and failure to provide informed consent.
David has argued two cases before the New Jersey Supreme Court. In one, involving a woman who was exposed to an improperly discarded needle while cleaning a physician's office – the woman feared that she may have contracted HIV/AIDS – David made landmark law when he persuaded the Court to rule that a person has the right to pursue a claim for the fear of contracting HIV/AIDS without proof that there was actual exposure to the disease, as long as there is proof that reasonable potential for exposure occurred and ongoing testing was needed. In another NJ Supreme Court case, David was able to prevail in an argument that parents had the right to pursue a claim on behalf of the estate of their deceased adopted child, even though the death due to medical malpractice occurred before the adoption was able to be completed. David later won a liability trial in that case.
In Spring 2005, David settled a case surrounding an aviation accident which involved the negligent repair of an airplane's engines that caused a malfunction and a subsequent plane crash. As a result of injuries suffered in the crash, our client was paralyzed from the mid-chest down. David obtained a 7 million dollar settlement on behalf of this client.
Mr. Fried also heads the firm's lead poisoning section. He has handled many of cases involving children eating lead-based paint that causes brain damage and which often shows up several years after the lead exposure.
Education, Lectures & Committees
A graduate of Rutgers University (B.A. 1978; J.D. 1981), Mr. Fried is an elected member of the American Board of Trial Advocates. He serves as one of two statewide delegates on the Legislative Committee of the New Jersey State Bar. David has lectured on various topics, including construction accidents.