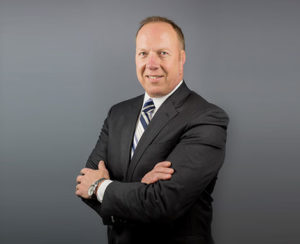 John E. Molinari, of Blume Forte Fried Zerres & Molinari, represented a 58 year old truck driver who was involved in a significant crash on the New Jersey Turnpike with two other trucks. The truck driver who caused the collision was killed in the crash. The drivers of the two other trucks were injured and both filed lawsuits against the deceased driver and his trucking company employer. Mr. Molinari's client was in the course of his employment and therefore his medical bills and his time lost from work were paid through his worker's compensation carrier who then asserted a lien on any recovery against the negligent truck driver and his employer. The Plaintiff suffered multiple disc herniations in his neck, for which he underwent conservative treatment that failed and ultimately underwent a two-level anterior cervical fusion approximately fourteen months post-collision. The Plaintiff was also diagnosed as suffering from post-traumatic stress disorder and was eventually declared to be unable to operate a tractor trailer.
Through payments made by the workers' compensation carrier and with benefits paid by the government through being declared permanently disabled, the plaintiff's future wage loss was minimal. The settlement amount included $84,000.00 that had to be repaid to the workers' compensation carrier for the payment of all medical bills incurred by the plaintiff. The Plaintiff and defendant agreed to proceed to Mediation at which time the case settled for a total settlement amount of $1,100,000.00.
About Blume Forte Fried Zerres & Molinari
First established in 1929 by Charles Blume, the law firm of Blume Forte Fried Zerres & Molinari has expanded to include 19 lawyers and 45 support staff across four different office locations in New Jersey, including Chatham, Sea Girt, Jersey City and North Bergen. Blume Forte Fried Zerres & Molinari has consistently been recognized for their personal injury and wrongful death verdicts and settlements by the New Jersey Law Journal. Our firm has decades of experience handling the most complex claims, including:
Workers' compensation
And more
If you or someone you love was injured as a result of someone else's negligence, you need to consult with an experienced personal injury attorney right away. Here, at Blume Forte Fried Zerres & Molinari, we will aggressively fight for your right to compensation. To learn more about our verdicts and settlements, click here.
Contact a Chatham Personal Injury Lawyer to Discuss Your Motor Vehicle Accident Case in New Jersey
Did you or a loved one sustain serious injuries due to a serious motor vehicle accident in New Jersey? Don't let the medical bills pile up while you wait for the negligent party or their insurance company to do the right thing. Right now, you need an aggressive personal injury attorney on your side, fighting to get you the compensation you need, want, and deserve. The certified attorneys at Blume Forte Fried Zerres & Molinari represent clients injured because of truck accidents in Chatham, Jersey City, Sea Girt, North Bergen, and throughout New Jersey. Call 973-845-4421 or fill out our online contact form to schedule a consultation about your case. We have an office conveniently located at One Main Street, Chatham, NJ 07928 as well as offices in Jersey City.
The articles on this blog are for informative purposes only and are no substitute for legal advice or an attorney-client relationship. If you are seeking legal advice, please contact our law firm directly.