John E. Molinari Esq.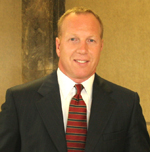 John E. Molinari nació y se crió en Union City. Su difunto padre fue un camionero quien logró mantener a 9 hijos y darles a cada uno la oportunidad de asistir a escuelas parroquiales de primera y segunda enseñanza. Su madre atendió a la familia y mas tarde trabajó como asistente de maestra en el sistema escolar público de Union City. John da credito a su padre por enseñarle la diciplina y fuerte ética de trabajo y a su madre por enseñarle a ser paciente y compasivo.
John obtuvo su Título de "Bachelor of Arts" en Inglés, graduandose cum laude del Manhattan College en 1982. Continuó hasta obtener su título de abogado en la Escuela de Leyes de New York en 1985. Mientras estudiaba en la Escuela de Derechos trabajaba como investigador para la Oficina de la Fiscalía del Condado de Hudson. Después de su graduación se convirtió en Asistente del Fiscal en la misma oficina manejando varios juicios con jurados para el Estado de New Jersey.
Tras dejar la Oficina Fiscal en 1988 John se asoció con una pequeña firma de abogados en Jersey City que se especilizaba en representar a demandantes con lesiones ocurridas en sus trabajos, dándole sus primeras experiencias en el sistema de justicia civil. Esta experiencia le ayudó a obtener una posición como Asociado con Blume Forte en 1990. En 1997 John se convirtió en el principal abogado de dos de las oficinas de la firma localizadas en Jersey City y North Bergen en el Condado de Hudson. Fue nombrado Socio en 1999. Ha llevado a juicio docenas de casos de lesiones personales y ha sabido ganarse el respeto de Jueces y Abogados por igual. John recibió la certificacion como abogado de casos civiles de la Corte Suprema de New Jersey en 2000. Su habilidad durante los juicios ha sido reconocida por los miembros del "American Board of Trial Advocates".
John fue elegido Presidente de la Asociación del Colegio de Abogados del Condado Hudson. Fue Director del Club de Abogados de North Hudson y previamente sirvió 5 años como miembro del Comite de Etica del Distrito VI. Es miembro del "Trial Lawyers Association", del Colegio de Abogados de New Jersey del Comité de Profesionales del Condado Hudson y como vocero autorizado del "Arthur T. Vanderbilt Inns of Court". Alcanzó una calificación "AV" en la revision de Martindale-Hubbell. Anualmente John juzga la competencia de Juicio de la Secundaria local.
Certified Civil Trial Attorney