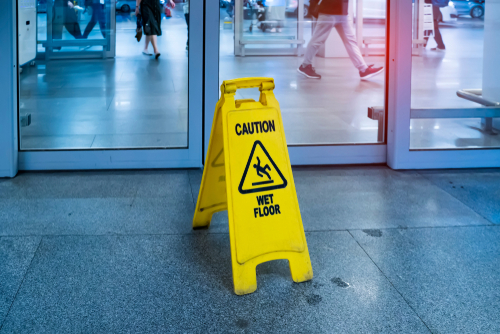 If you have an in-store slip and fall accident in Walmart, you may wonder whether you can file a lawsuit or claim for compensation against the company for your injuries and losses.
Holding Walmart liable for your slip and fall injuries is an attractive proposition because, as one of the largest companies in the country, they have the financial resources to fully compensate you no matter how severe your injuries or how extensive your financial and personal losses are. Compensation might be less certain if you suffered a slip and fall on the premises of a small, independent retailer, as they may not have insurance or financial resources sufficient to fully compensate you if you sustain serious injuries.
Challenges of Filing a Slip and Fall Claim Against Walmart
Of course, just because Walmart has the money to pay your slip and fall claim doesn't automatically mean they are going to do so if you present them with a claim for compensation. Because Walmart has considerable financial resources, that means they also have the resources to fight your claim. If you have only suffered minor injuries and haven't incurred much in the way of expenses, you may end up spending more money trying to win your claim against Walmart than your claim is worth.
Not every slip and fall that occurs in a Walmart store is the company's fault. Walmart owes a legal duty to its customers to take reasonable steps to keep its premises free of hazards. But sometimes a slip and fall hazard may occur that the law does not hold Walmart responsible for. Generally speaking, Walmart may be liable for a slip and fall in one of its stores if the slipping hazard was either created by Walmart (such as a leaking frozen display) or if the hazard existed long enough that Walmart employees should have discovered and fixed it through reasonable inspection efforts.
Read more: Everything You Need To Know About Premises Liability Laws In NJ
Evidence You Can Use to Hold Walmart Liable
Evidence that can be used to prove Walmart's legal liability for your slip and fall injuries include:
An accident or incident report prepared by store employees or managers
Surveillance footage, which can show what may have caused your slip and fall and how long the hazard had been present on the floor
Eyewitness statements
Medical records and expert medical testimony establishing your injuries and connecting them to your fall
Prior slip and fall accidents at Walmart, especially prior accidents at the same store or same part of the store.
You'll also want to preserve other evidence to help your claim along, including keeping copies of all bills, invoices, and receipts from any expenses you incur during your recovery from the accident. Most importantly, you should keep the shoes and clothing that you were wearing at the time of your slip and fall, especially if Walmart asks you to preserve them. This means not wearing or washing those shoes or clothing until after your case is resolved. If you wash, continue to wear, or throw out your clothing or shoes, if your case goes to trial Walmart may argue or try to ask for an adverse inference that your shoes and/or clothing caused or contributed to your accident.
Contact a Chatham Personal Injury Lawyer to Discuss Your Slip and Fall Case in New Jersey
Did you or a loved one sustain serious injuries due to a slip and fall in New Jersey? Don't let the medical bills pile up while you wait for the negligent party or their insurance company to do the right thing. Right now, you need an aggressive personal injury attorney on your side, fighting to get you the compensation you need, want, and deserve. The skilled attorneys at Blume Forte Fried Zerres & Molinari represent clients injured because of slip and fall accidents in Parsippany, Mount Olive, Rockaway, Union City, and throughout New Jersey. Call (973) 635-5400 or email us to schedule a free consultation about your case. We have an office conveniently located at One Main Street, Chatham, NJ 07928, as well as offices in Jersey City, Sea Girt, and North Bergen.
The articles on this blog are for informative purposes only and are no substitute for legal advice or an attorney-client relationship. If you are seeking legal advice, please contact our law firm directly.