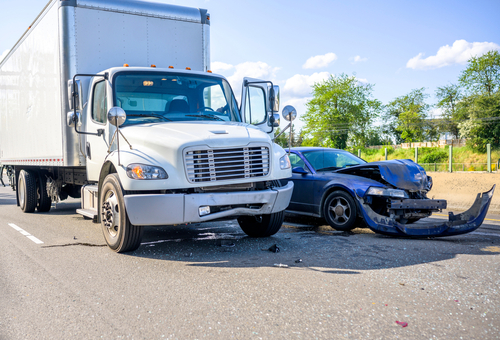 Unfortunately, hundreds of trucking accidents happen throughout New Jersey every year, leaving other motorists on the road to recover from severe vehicle damage and personal injuries. If you have been the victim of a truck accident caused by a truck driver's or trucking company's negligence or recklessness, you deserve to understand your legal options for seeking accountability and financial recovery for your harm and loss.
Common Types of Trucking Accidents
Trucking accidents come in many different types. The specific type of accident can determine the damage and injuries that are suffered in an accident as well as who can be held liable for the crash. Common causes of trucking accidents include:
Unsafe driving, including speeding, disregarding traffic signs and lights, tailgating, or weaving in and out of traffic
Drowsy or fatigued driving, often caused by a truck driver exceeding their legally-mandated hours-of-service limits
Driving under the influence of drugs or alcohol
Distracted driving, including cell phone use while driving, using the radio or adjusting climate controls, or even simply daydreaming after having spent hours on the road
Improper cargo loads, including overloading the truck past its hauling capacity, not balancing the load (including loading heavier items on the bottom), or not properly securing cargo and allowing it to shift while the truck is in motion
Cargo spills, especially when a truck is carrying hazardous or dangerous cargo like flammable, toxic, or radioactive materials
What Should You Do After a Truck Accident?
If you were involved in a truck accident, steps you can take to preserve your legal rights and to put yourself in a better position to later pursue a claim for compensation for your losses include:
Document the accident scene by using your smartphone to take photos and video of vehicle damage, marks on the road, traffic controls at the scene, weather/lighting/traffic conditions at the time of the crash, and any visible injuries you've suffered.
Seek medical attention as soon as possible to get examined for any injuries you sustained in the crash. Follow any treatment instructions or recommendations you receive.
If you are contacted by insurance adjusters after the accident, avoid discussing the crash or any possible legal claim you have, at least until you have had a chance to consult with an attorney.
Keep copies of bills, invoices, and receipts from medical treatment, vehicle repairs, and other expenses you incur. Also have copies of your pay stubs or income statements if you miss work after the crash.
Don't discuss the accident, your injuries, or your case with family and friends or on social media.
Finally, make time to speak with a trucking accident attorney as soon as possible to go over your legal options and next steps for pursuing a financial recovery from those at fault for the crash.
Who Can You Hold Legally Responsible for a Trucking Accident in New Jersey?
Depending on the circumstances of a trucking accident, parties that may bear liability for your injuries and losses include:
The truck driver
The trucking company
The owner of the truck, if different from the truck driver or trucking company
The mechanic responsible for maintaining the truck
The truck's manufacturer, or a manufacturer of a defective part used on the truck
The freight company responsible for loading cargo into the truck or trailer
Contact a Chatham Personal Injury Lawyer to Discuss Your Truck Accident Case in New Jersey
Did you or a loved one sustain serious injuries due to a truck accident in New Jersey? Don't let the medical bills pile up while you wait for the negligent party or their insurance company to do the right thing. Right now, you need an aggressive personal injury attorney on your side, fighting to get you the compensation you need, want, and deserve. The skilled attorneys at Blume, Forte, Fried, Zerres & Molinari represent clients injured because of truck accidents in Bayonne, Hoboken, West New York, Kearny, and throughout New Jersey. Call (973) 635-5400 or fill out our online contact form to schedule a consultation about your case. We have an office conveniently located at One Main Street, Chatham, NJ 07928, as well as offices in Jersey City, Sea Girt, and North Bergen.
The articles on this blog are for informative purposes only and are no substitute for legal advice or an attorney-client relationship. If you are seeking legal advice, please contact our law firm directly.