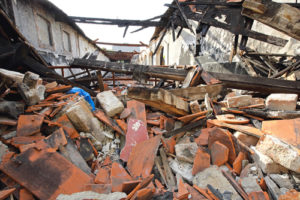 The Occupational Safety and Health Administration, which is the federal agency charged with ensuring safe working conditions for U.S. citizens, explains how a structural collapse occurs. The agency describes how a building's walls will inevitably collapse when the internal load bearing elements fail. During these types of collapses, the outside walls, upper floors or other structures may fall inwards and pin people inside. The results of these collapses are devastating and can include severe injury and even death.
Types of Structural Collapse
When a structure collapses and someone is pinned inside, the injuries can be catastrophic. Liability in these types of accidents greatly depends on the type of collapse and the cause of the collapse. There are three general types of structural collapses including ones that occur during the building process, collapses on existing structures and secondary collapses. Secondary collapses happen when a nearby structure begins to collapse and causes the adjacent buildings to fall as well. Unless the collapse is secondary, an investigation into the collapse is usually pursued. The investigation's results will largely determine who will be held responsible for property damage and injuries.
What Causes a Structural Collapse?
Structural collapses occur for a number of reasons. Below are some of the most common causes for structural collapses.
Faulty construction
Inadequate building inspections
Failure to properly maintain the building
Design flaws
Foundation defects or weak foundation
Failure to adhere to weight/load limits
Violating the building code
Failure to take proper safety measures during construction, demolition or renovation
Dangerous or defective building materials
Uncontrollable weather events (storms, earthquakes, mudslides)
These various causes of structural collapse are all preventable. When structural collapse occurs, it is nearly always the result of someone's negligence.
Who Can be Held Liable in Structural Collapses?
In a structural collapse, a number of parties could be held liable for the damages. Following are some of the parties that could be held responsible.
• The manufacturers of faulty equipment
• Property owners
• Building owners
• Contractors
• Construction companies
• Construction managers
• General contractors
It's important for victims to understand that they may have the right to collect compensation from more than one party. Employees who were injured might also be eligible for workers' compensation benefits.
Contact a New Jersey Personal Injury Lawyer to Discuss Your Personal Injury Case in New Jersey
Did you or a loved one sustain serious injuries due to a structure collapse in New Jersey? Don't let the medical bills pile up while you wait for the negligent party, or their insurance company, to do the right thing. Right now, you need an aggressive personal injury attorney on your side and fighting to get you the compensation you need, want, and deserve. The skilled attorneys at Blume, Forte, Fried, Zerres & Molinari represent clients injured because of a structure collapse in Chatham, Jersey City, North Bergen, and Sea Girt, and throughout New Jersey. Call 973-845-4421or email us to schedule a free consultation about your case. We have an office conveniently located at One Main Street, Chatham, NJ 07928, as well as offices in Jersey City, Sea Girt and North Bergen.
The articles on this blog are for informative purposes only and are no substitute for legal advice or an attorney-client relationship. If you are seeking legal advice, please contact our law firm directly.