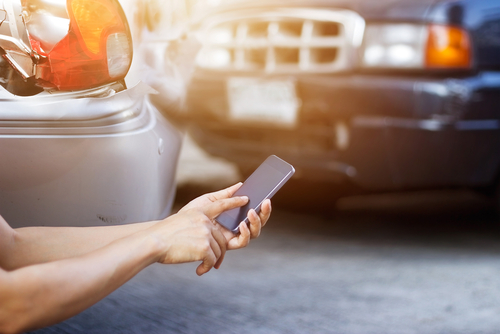 If you were injured while riding in an Uber by an accident that was caused by another driver hitting your Uber, you normally would have to turn to that driver to recover compensation for your injuries. However, pursuing compensation in an Uber accident or any other kind of motor vehicle accident can be difficult when the at-fault driver does not have liability insurance or does not have sufficient insurance coverage to fully compensate you. When this occurs, the at-fault driver is considered an uninsured or underinsured driver.
After being involved in an Uber accident that was caused by an uninsured or underinsured motorist, you need to know what legal rights and options you may have to recover compensation.
Uber's Insurance Coverage
Under New Jersey law, rideshare companies such as Uber are required to offer insurance coverage on behalf of their drivers and passengers. This means that someone who is injured in an accident caused by an Uber driver or while riding in an Uber can get financial compensation for their injuries.
When an Uber is driving to pick up a passenger or has a passenger in the vehicle, the company is required to provide up to $1.5 million in liability coverage for death, bodily injury, and property damage in the event an accident is caused by the Uber driver. In addition, the company must also provide up to $1.5 million in uninsured/underinsured motorist coverage to protect the Uber driver and their passengers in the event of an accident caused by another uninsured/underinsured motorist.
Steps You Should Take after an Accident
If you have been in an Uber accident that may have been caused by another uninsured or underinsured motorist, the steps you need to take to protect your legal rights and options include:
Document the accident scene by taking photos or videos with your cell phone. Make sure to photograph or video details such as vehicle damage, skid marks on the road, traffic controls at the scene, and any visible injuries you suffered.
Report the accident to Uber. If you were a passenger in an Uber that got into an accident, you can report the accident through the trip screen on the mobile app.
See a doctor as soon as possible, even if you don't feel hurt. A doctor can examine you for any injuries you may have sustained so that you can document them as having been caused by the accident.
Keep copies of bills and invoices.
Speak to a personal injury lawyer about your case and learn more about your legal rights and options.
Dealing with the Insurance Company
Uber secures the insurance it is required to have by law through private insurance companies. As a result, if you file a claim against Uber's uninsured/underinsured motorist coverage after an accident, you will have to deal with Uber's insurance company. Unfortunately, insurance companies are notorious for doing everything they can to pay as little money as possible to accident victims. Insurers may use complex factual and legal details in an Uber accident case to simply deny coverage. That's why you need an experienced Uber accident attorney to help you demand fair and full compensation from the insurance companies.
Contact a Chatham Personal Injury Lawyer to Discuss Your Uber Accident Case in New Jersey
Did you or a loved one sustain serious injuries due to an Uber accident in New Jersey? Don't let the medical bills pile up while you wait for the negligent party or their insurance company to do the right thing. Right now, you need an aggressive personal injury attorney on your side, fighting to get you the compensation you need, want, and deserve. The skilled attorneys at Blume, Forte, Fried, Zerres & Molinari represent clients injured because of Uber accidents in Parsippany, Mount Olive, Rockaway, Union City, and throughout New Jersey. Call (973) 635-5400 or fill out our online contact form to schedule a free consultation about your case. We have an office conveniently located at One Main Street, Chatham, NJ 07928, as well as offices in Jersey City, Sea Girt, and North Bergen.
The articles on this blog are for informative purposes only and are no substitute for legal advice or an attorney-client relationship. If you are seeking legal advice, please contact our law firm directly.