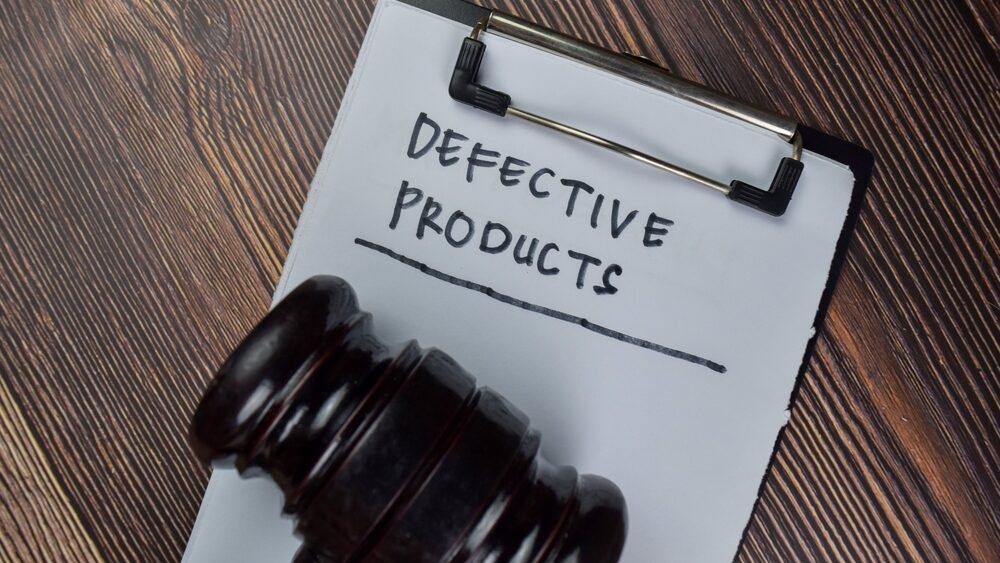 As consumers, we rely on products to function safely and efficiently. However, when a product fails to function as intended, the results can be devastating. Injuries caused by defective products can result in medical bills, lost wages, and emotional trauma. Product liability cases can occur in a variety of ways, such as a faulty design, a manufacturing defect, or a failure to warn about potential dangers.
It is important to understand your rights and options as a consumer. In this article, we will discuss the basics of product liability law and what you should do if you are injured by a defective product.
What is Product Liability?
Product liability refers to the legal responsibility of manufacturers, distributors, and retailers for injuries caused by their products. This can include a range of products, from toys and appliances to cars and medical devices. If a product is defective and causes injury, the manufacturer or seller may be held liable for the resulting damages. In order to prove product liability, a plaintiff must show that the product was defective and that the defect caused their injury.
Types of Product Defects
There are three types of defects that can result in a product liability claim:
1. Design Defects: A design defect is a flaw in the product's design that makes it inherently dangerous. Examples of design defects include faulty brakes on a car, a drug with dangerous side effects, a ladder with a design flaw that causes it to collapse when in use, and more.
2. Manufacturing Defects: These occur during the production or assembly of a product and can cause a single or batch of products to be defective. These defects can occur when a product is made incorrectly or with substandard materials. Some examples include a car with a faulty airbag that fails to deploy during an accident, a bike with a broken brake cable, or a defective tire.
3. Failure to Warn: This occurs when a manufacturer fails to provide adequate warning or instructions for safe use of a product. A marketing defect occurs when a product is improperly labeled or marketed, leading to consumer confusion or injury. Examples of marketing defects include a medication with an inadequate warning about potential side effects or a toy with misleading safety instructions.
Proving Product Liability
To prove a product liability claim, you must show that the product was defective and that the defect caused your injury. Additionally, you must show that you were using the product as intended and that you did not modify it in any way that would cause the defect. A product liability claim typically requires expert testimony from engineers or other professionals who can evaluate the product and testify as to the cause of the defect.
Your Rights and Options in a Defective Product Injury Case
There are several options available to you for pursuing compensation if a defective product causes you harm. You may be entitled to:
Compensation for Medical Expenses: If a defective product causes you harm, you might be eligible for financial assistance with your hospital bills, doctor's fees, and rehabilitation costs.
Lost Wages: If your injuries prevent you from working, you may be entitled to compensation for lost wages.
Pain and Suffering: If you experience physical pain, emotional distress, or other non-economic damages as a result of your injuries, you may be entitled to compensation for pain and suffering.
Punitive Damages: In cases of extreme negligence, the court may award punitive damages to punish the manufacturer or seller for their actions.
Options for Pursuing Compensation
There are several options for pursuing compensation in a defective product injury case:
1. Product Liability Lawsuit: You can file a product liability lawsuit against the manufacturer, distributor, or seller of the product. This is a legal action that seeks to hold the responsible parties accountable for your injuries.
2. Class Action Lawsuit: If several people have suffered harm from the same product, they might be able to join forces in a class action lawsuit. This is a legal action in which a group of people collectively pursue compensation for their injuries.
3. Settlement: In some cases, the manufacturer, distributor, or seller may offer a settlement to compensate you for your injuries. It is important to have an attorney review any settlement offer to ensure that it is fair and covers all of your damages.
Contacting a Product Liability Attorney
It's critical to get in touch with a product liability lawyer as soon as possible if a defective product has injured you. An experienced attorney can evaluate your case, determine if you have a claim, and help you navigate the legal process. At Blume Forte Fried Zerres & Molinari, our attorneys have over 80 years of experience handling product liability cases. We are committed to fighting for our clients' rights and helping them recover the compensation they deserve.
Contact Blume Forte Fried Zerres & Molinari Today for a Free Consultation About Your Defective Products Case
When you or a loved one is injured due to someone else's negligence, the aftermath can be overwhelming. Medical bills pile up, you may be unable to work, and you're left wondering how you'll make ends meet. That's where the team at Blume Forte Fried Zerres & Molinari comes in. We are dedicated to protecting your rights and pursuing justice on your behalf.
Our experienced attorneys have a proven track record of success in personal injury cases, including car accidents, slip and falls, medical malpractice, and product liability. We understand the physical, emotional, and financial toll that these incidents can take, and we work tirelessly to ensure that you receive the compensation you deserve.
At Blume Forte Fried Zerres & Molinari, we pride ourselves on our personalized approach to each case. We take the time to listen to your story, assess your situation, and develop a tailored strategy to meet your unique needs. Our attorneys are skilled negotiators and litigators, and we will fight for your rights every step of the way.
We also understand the importance of communication and transparency throughout the legal process. We will keep you informed and involved at every stage of your case by answering any questions you may have and providing regular updates on our progress.
If you or a loved one have been injured in an accident, don't wait to seek legal advice. Contact us today for a free consultation to discuss your case and learn how we can help you get the justice and compensation you deserve.