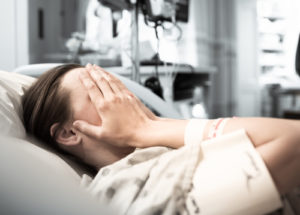 It was announced earlier this week that thousands of patients of a New Jersey surgical center could have been exposed to hepatitis and HIV, according to multiple news sources. The New Jersey Department of Health estimates that close to 3,000 people could be impacted since they were patients at the surgery center. The exposure involves HIV, hepatitis B, and hepatitis C.
The surgical center at the middle of the incident is located in Saddle Brook and is known as the HealthPlus Surgery Center. The patients possibly affected would have been at the center between January 2018 and September 7, 2018.
The director of the surgical center, Betty McCabe, said that the more than 3,700 patients need to get their blood tested. She said the patients were possibly exposed due to deficiencies in the control process for infections. This includes deficiencies in the injection of medicine and the cleaning of medical tools.
According to the New Jersey Department of Health, there have not been any reports of illness yet and that the risk of infection is low. At the same time, the Department of Health noted that the announcement was simply done in an abundance of caution for the patients involved.
McCabe made it known that the surgical center will cover the costs of getting tested for the infections for the patients involved.
The Department of Health said that it closed the surgical center temporarily when it discovered employees were not properly sanitizing medical tools and were not following the proper procedures for storing medication. The center reopened on September 28.
"We have taken this issue very seriously," McCabe said in a statement. "The New Jersey Department of Health's move to close the facility provided an opportunity to focus more intently on quality, safety, and consistent adherence to sound policies and procedures."
How Patients Can Get Tested
If you were a patient at the surgical center in question between January 1 and September 7, 2018, here's the information on how patients can get tested if you live in New Jersey:
Schedule a test by calling 1-888-507-0578 between the hours of 9am-9pm Monday through Friday.
All tests will be performed at the Hudson Regional Hospital, which is located at 55 Meadowlands Parkway in Secaucus. Bring the letter mailed to you by the surgical center to your test.
The process for getting tested is as follows:
All testing is being conducted at LabCorp locations across the state
You can call to schedule a test Monday through Friday 9am-9pm via the number listed above
You will need to bring the letter from the surgical center, the enclosure from LabCorp, and a photo ID to the test.
Letter Sent to Patients
The letter sent to patients possibly affected by the exposure reads as follows:
"Knowing if you have hepatitis B, hepatitis C, or HIV is important because there are medicines, treatments, and other things that people with these infections can do to protect their health. You can be infected with these diseases and not feel sick at all. It is important that you get tested, even if you do not remember feeling sick. The tests are a simple blood test. All of us at HealthPlus understand this may be upsetting. We want to assure you that we will assist you during this process, including paying for all medical costs associated with testing. We recommend that you get tested as soon as possible."
Contact a Chatham Medical Malpractice Attorney for a Consultation About Your Hospital Negligence Case in New Jersey
Were you or a loved one injured due to medical malpractice in New Jersey? Then you need to talk to an experienced medical malpractice lawyer as soon as possible for guidance on how to proceed. The Jersey City medical malpractice attorneys at Blume Forte Fried Zerres & Molinari are prepared to assist you with your legal claim. We represent victims of negligent surgeons, doctors, nurses, and pharmacists throughout NJ including Parsippany, Mount Olive, Rockaway, and Hoboken. Call us today at 973-845-4421 or email us to schedule a consultation. Our main office is located at One Main Street, Chatham, NJ 07928, and we also have offices in Jersey City, Sea Girt, and North Bergen, NJ. 
The articles on this blog are for informative purposes only and are no substitute for legal advice or an attorney-client relationship. If you are seeking legal advice, please contact our law firm directly.