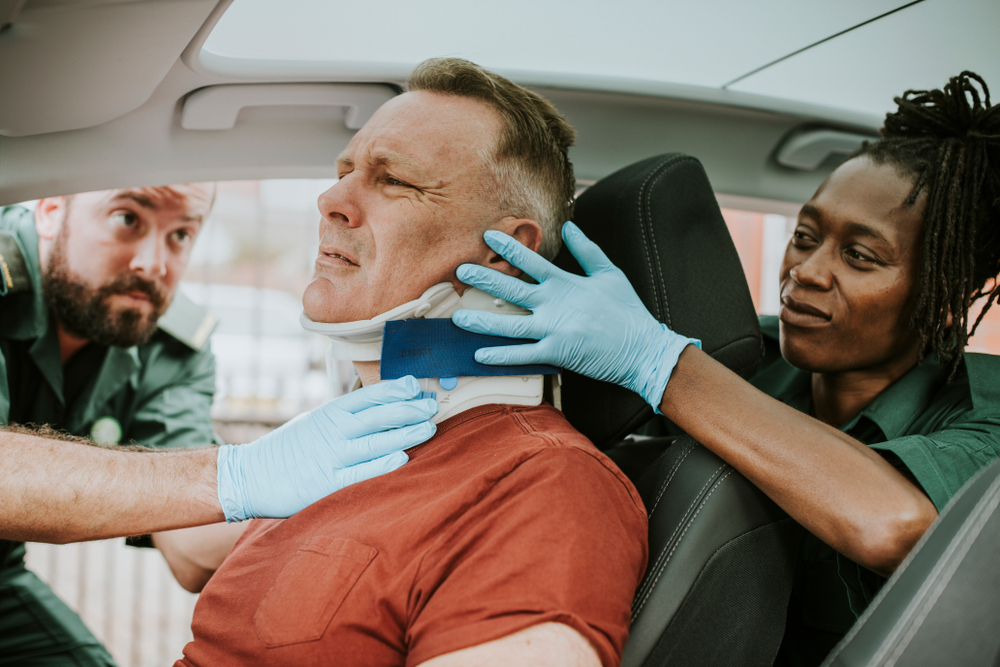 One of the most devastating consequences of car crash injuries is paralysis due to a spinal cord injury or traumatic brain injury. Permanent paralysis can have devastating effects on your personal and professional life, including restricting your ability to return to work after the car accident or to participate in activities you previously enjoyed. Permanent paralysis may also require you to seek medical care and other personal support throughout your life. 
If you have suffered spinal injuries or severe traumatic brain injuries in a car accident, you need to understand how paralysis, including paraplegia and quadriplegia, can affect your life. 
What is Paraplegia/Quadriplegia?
Paraplegia refers to a type of paralysis that affects the lower limbs and lower torso. Depending on the location and severity of a spinal cord injury suffered in a car accident, a person suffering from paraplegia may only have partial loss of sensation in their feet, legs, and pelvis, or may experience chronic tingling and pain in affected areas. Involuntary movements or spasms in the legs may also be a symptom of paraplegia. A car accident victim suffering from paraplegia may retain some degree of movement and motor control in their legs, although walking may be difficult and only possible with the use of assistive equipment such as braces or a walker. However, in more serious cases of paraplegia, a car accident victim may be totally paralyzed from the waist down and become wheelchair-bound. Paraplegia may affect bodily functions for organs located in the pelvis and lower torso, including loss of bowel/bladder function and loss of sexual function or sensitivity.
Quadriplegia refers to the type of paralysis that affects the body from the shoulders or upper chest all the way down the body. Car accident victims suffering from quadriplegia have severely reduced or total loss of use of the arms and legs. Quadriplegia also affects bodily functions, including digestive, respiratory, and cardiovascular symptoms. Victims of quadriplegia may have difficulty breathing and need to be placed on a ventilator. They might also suffer life-threatening spikes or drops in blood pressure, and face risks of cardiovascular disease from blood clots. 
Pursuing Compensation After Suffering Paralysis in a Car Accident
A car accident victim who suffers paraplegia or quadriplegia from a car accident may be entitled to significant compensation. People who have been paralyzed typically make less income than those not suffering from paralysis, with many people suffering from paraplegia and quadriplegia unable to work at all. Financial recovery following a car accident that causes paralysis should include money for:
Medical bills and expenses, including therapy and rehabilitation services
Costs of long-term care, including home health services, housekeeping assistance, purchases of wheelchairs and other assistive devices, and home renovations to install disability accommodations
Loss of wages while an accident victim is out of work to rehabilitate after being paralyzed in a car accident
Loss of future earning capacity due to permanent disabilities preventing a car accident victim from returning to work
Chronic physical pain and suffering
Emotional trauma and distress, including due to lost quality of life
Reduced life expectancy
Contact a Chatham Personal Injury Lawyer to Discuss Your Car Accident Case in New Jersey
Did you or a loved one sustain serious injuries due to a car accident in New Jersey? Don't let the medical bills pile up while you wait for the negligent party or their insurance company to do the right thing. Right now, you need an aggressive personal injury attorney on your side, fighting to get you the compensation you need, want, and deserve. The skilled attorneys at Blume, Forte, Fried, Zerres & Molinari represent clients injured because of car accidents in Parsippany, Mount Olive, Rockaway, Union City, and throughout New Jersey. Call (973) 635-5400 or fill out our online contact form to schedule a free consultation about your case. We have an office conveniently located at One Main Street, Chatham, NJ 07928, as well as offices in Jersey City, Sea Girt, and North Bergen.
The articles on this blog are for informative purposes only and are no substitute for legal advice or an attorney-client relationship. If you are seeking legal advice, please contact our law firm directly.