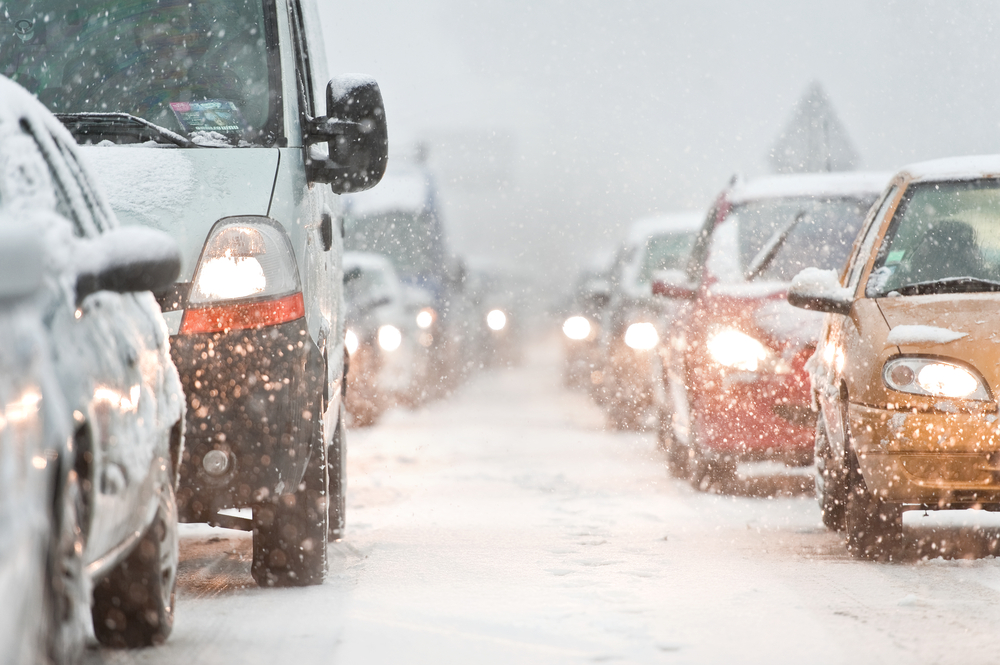 The winter season means new road hazards for drivers, including black ice, snow, and slush. It is critical for drivers to know what steps they need to take to help reduce their risks of getting into a car accident due to snow and other winter weather. 
Prep Your Vehicle for Winter
At the start of the winter season, you should make sure that your vehicle is prepared for the harsher weather. Ideally, you should place winter/snow tires on your vehicle, as they are designed to better grip the road in slick conditions. You should also check your tire pressure, which will decrease in colder weather. Other important maintenance items:
Top off your antifreeze
Refill your wiper fluid reservoir with fluid containing anti-freezing ingredients
Install new windshield wipers
Inspect and test your battery
Check Traffic and Weather
Before heading out to run errands for the day or going on a long road trip, you should check the weather conditions and traffic patterns for your route. This will allow you to schedule your departure or to plan alternate routes to avoid heavy traffic or bad weather.
Clear Your Vehicle
After a snow or ice storm, you should remove any snow or ice on your vehicle. If you leave snow piles on your roof or trunk and set off, chunks of snow or ice can fly off your vehicle and strike other motorists or other pedestrians or cyclists.
Drive Slowly
Because speed limits are intended for ideal driving conditions, you should drive a little slower in winter weather. Exercise caution when driving over bridges and overpasses, where black ice is much more likely to form. Consider leaving a little extra early so that you do not feel the need to speed to reach your destination on time.
Increase Following Distance
When driving on slick road conditions, also remember to increase your following distance to the vehicle ahead of you since you will need extra room to slow down and come to a stop if the other vehicle brakes. Ideally, you should leave at least six seconds of distance.
Avoid Sudden Maneuvers
Sudden maneuvers on slippery roads can easily cause you to lose control of your vehicle. Instead, use slow, deliberate inputs on the accelerator, brake pedal, and steering wheel. If you feel your vehicle begin to skid on the road, resist the temptation to slam on the brakes or to jerk the steering wheel in the other direction, as doing so can cause your vehicle to spin out of control. 
Learn How to Recover from a Skid
You should also know how to recover from a skid in your vehicle. If you begin to feel your vehicle skid, take your foot off the accelerator and begin to gently steer into the skid. Avoid using your brakes unless necessary, and never slam on your brakes. If your vehicle has anti-lock brakes, slowly and firmly press on the pedal. If your vehicle doesn't have anti-lock brakes, gently pump on the brakes to slow down.
Don't Use Cruise Control
Finally, refrain from using cruise control during the winter. If your vehicle hits a patch of snow or ice with cruise control engaged, your vehicle may suddenly accelerate if one or more of your tires loses traction.
Contact a Chatham Personal Injury Lawyer to Discuss Your Case in New Jersey
Did you or a loved one sustain serious injuries in New Jersey? Don't let the medical bills pile up while you wait for the negligent party or their insurance company to do the right thing. Right now, you need an aggressive personal injury attorney on your side, fighting to get you the compensation you need, want, and deserve. The skilled attorneys at Blume, Forte, Fried, Zerres & Molinari represent clients injured in Parsippany, Mount Olive, Rockaway, Union City, and throughout New Jersey. Call (973) 635-5400 or fill out our online contact form to schedule a free consultation about your case. We have an office conveniently located at One Main Street, Chatham, NJ 07928, as well as offices in Jersey City, Sea Girt, and North Bergen.
The articles on this blog are for informative purposes only and are no substitute for legal advice or an attorney-client relationship. If you are seeking legal advice, please contact our law firm directly.