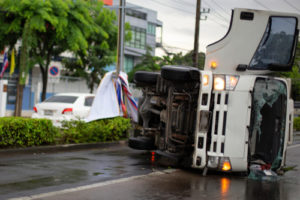 On January 24, 2019 at about 7:30 pm, an eastbound bus on Route 80 in Parsippany, New Jersey struck the highway median, went airborne and then crashed into three cars. Tragically, this accident killed one person and injured thirty-six. The cause of this horrible accident is still being investigated.
This headline and the terrible specifics of this bus accident seem familiar because we seem to hear about incidents such as this in the local news all the time. In the Garden State, statistics show that buses are nearly three times more likely to be involved in a large vehicle accident than the national average. This is probably a result of the many commuters who ride buses to Newark, Philadelphia and New York City for work or pleasure each day. This also means we have more buses on our roads than most others states within the country.
Every day, thousands of New Jersey residents take buses to school, their job or to get wherever they want or need to travel. For some, this is their only way to travel within their community. Unfortunately, this makes bus accidents in New Jersey unavoidable and scores of people are injured and killed each year in our state.
The Typical Reasons for Accidents with Buses
Bus accidents are typically caused by:
A bus operator driving while drunk or on drugs
A tired bus driver
A driver of a bus on a cell phone or otherwise distracted
Non-working or poorly maintained tires or brakes
Poor driving
Starting a bus before the passengers are able to be seated
Hitting a pedestrian
How to Get Compensated for Injuries From Bus Accidents
The typical ways people are hurt in bus accidents are:
Bone fractures
Sprains and tears
Cuts and bruises
Injuries to the face
Getting hurt in an accident with a bus usually has both short and long-term results. There can be medical and hospital costs, pain and suffering and you may miss time from work. Catastrophic or serious injuries can have more permanent consequences including long-term pain and disabling injuries.
Passengers are not typically at fault in a bus accident and are likely able to collect damages for their injuries.
Damages from NJ bus accidents include:
Therapy and medical expenses (including those anticipated in the future)
Wages lost and future lost wage capacity
Wheelchair ramps and other modifications to a home
Pain and suffering
Wrongful death, when applicable
Insurance Companies and Bus Accidents
Bus accident victims usually need medical treatment. Figuring out which insurance company will foot these expenses is not always so easy. Some bus operators need to have insurance covering doctors' bills for passengers while others are not. An experienced bus accident attorney can sort this out so these bills are paid.
Remember, insurance companies want to make money and not pay it to accident victims. The less that is paid out, the more the insurance company keeps. A good lawyer will know how to bargain with the insurance carrier for you. He or she will protect you and battle for as much compensation as he or she is able to receive on your behalf.
Who is to Blame for a NJ Bus Accident?
Obviously, depending upon the facts, the following is a list of the most likely parties responsible for a bus accident:
The driver of the bus: The bus driver may be to blame if he or she does not drive the bus safely or breaks the law
Other drivers: Drivers of other vehicles may cause bus accidents by driving unsafely
Bus owners: If a bus is poorly maintained and this helped to cause the collision, the bus owner can be held responsible for any injuries
Bus makers: The builder may be responsible if a defect in the manufacturing helped to cause the collision
The companies that maintain the bus
Poorly maintaining a bus may lead to failed equipment and cause a bus to be in an accident. If this is the case, the companies that maintain the buses may be held responsible for injuries
Contact a Jersey City Personal Injury Lawyer to Discuss Your Bus Accident in New Jersey
Did you or a loved one sustain serious injuries due to a bus accident in NJ? Don't let the medical bills pile up while you wait for the negligent party or their insurance company to do the right thing. Right now, you need an aggressive personal injury attorney on your side, fighting to get you the compensation you need, want, and deserve. The skilled attorneys at Blume Forte Fried Zerres & Molinari represent clients injured because of a bus crash in Union City, Bayonne, North Bergen, Chatham and throughout New Jersey. Call 973-845-4421 or email us to schedule a free consultation about your case. We have an office conveniently located at One Main Street Chatham, NJ 07928, as well as offices in Jersey City, Sea Girt and North Bergen.
The articles on this blog are for informative purposes only and are no substitute for legal advice or an attorney-client relationship. If you are seeking legal advice, please contact our law firm directly.