Michael B. Zerres Esq.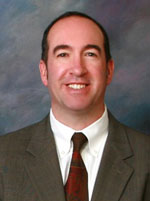 Principal de la firma, Michael Zerres esta certificado y recertificado como Abogado del Tribunal Civil por la Corte Suprema de New Jersey, especializando en casos de negligencia médica, responsabilidad en la fabricación de un producto y, lesiones personales.
Miembro de el Colegio de Abogados de New Jersey, Mike se unió a "Blume Forte" en 1990 y ha manejado una variedad de casos complicados, incluyendo temas como el procedimiento apropiado durante el parto y nacimiento de bebes, cuidados al recien nacido asi como la falta de diagnosticar y dar tratamiento a tiempo en varios tipos de cancer.
Como otros abogados de "Blume Forte", el Sr. Zerres ha sido solicitado para ayudar a abogados en otros Estados y está actualmente asistiendo en casos en Oklahoma, North Carolina y Mississippi como consejero para casos de niños lesionados por Paralisis de Erb.
El Sr. Zerres ha ofrecido conferencias en asuntos legales como " Probando Daños Económicos en Muertes Accidentales". Ha sido co-autor y editor de dos libros sobre malpractica en Asilos de ancianos.
Ha sido honrado por la Liga Contra la Parálisis Cerebral del Estado de New Jersey y es miembro del "Board of Governors" del "Association of Trial Lawyers of America" y pertenece a la Junta de Directores de la Asociación de Abogados de New Jersey. También es miembro del "Birth Trauma Litigation Group" de la Asociación de Abogados de America.
Mike es graduado de Seton Hall University (1984 B.A. magna cum laude) y de la Escuela de Leyes de la Universidad de St. John (1987). Es miembro de ABOTA (American Board of Trial Advocates), del Colegio de Abogados de los Condados de Morris y Essex y de la Asociacion de Abogados de Philadelphia.
Certified Civil Trial Attorney