Carol L. Forte Esq.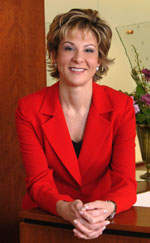 Según el "National Law Journal", Carol L. Forte es frecuentemente mencionada por otros abogados como la abogada Judicial mas prominente del Estado de New Jersey. En Mayo del 2000 un articulo titulado "Gigantes de Jersey" la revista reconoció a la Licenciada Forte entre los mejores 10 litigadores del Estado. Ha sido reconocida en el "National Law Journal" en innumerables ocaciones como una de las 50 mujeres litigadoras de toda America.
Se unió a la firma en 1984 después de graduarse de la Escuela De Leyes de la Universidad de Seton Hall. Su previa experiencia como enfermera registrada le ha servido mucho en los casos de negligencia medica en los que ha participado.
Algunos de sus logros incluyen el otorgamiento de $12,682,500.00 por veredicto por jurado para los padres de un niño con daño cerebral cuyo gemelo murió en el utero; $8,000,000.00 a favor del niño con daño cerebral cuyo nacimiento fue demorado cuando los médicos y enfermeras que atendían a la madre no reconocieron presión fetal. Una recompensa de $5,000,000.00 por responsabilidad en la fabricación de un producto defectuoso. Numerosas recompensas millonarias en casos de bebés con daños nacidos prematuramente quienes sufrieron de infecciones contraídas en el cuarte de recién nacidos causándoles daños cerebrales.
Carol ha representado a un gran numero de mujeres cuyos cáncer de seno no fueron diagnosticados oportunamente. Ha manejado casos de tardanza en el diagnostico de cáncer cervical. Es una de las abogadas prominentes en New Jersey manejando casos de lesión de plexus en donde se dañan los nervios que controlan el funcionamiento de los hombros y brazos de niños y que ocurren durante el parto.
Carol es miembro del Colegio de Abogados de Essex, Morris y del Colegio de Abogados de New Jersey , del "American Board of Trial Advocates" y del "American Trial Lawyers Association". Pertenece al "Supreme Court Board on Attorney Certification" y al "Seton Hall Law School Board of Visitors". Ha dado conferencias para el "American Trial Lawyers Association" y para el "Institute for Continuing Legal Education in New Jersey".
Certified Civil Trial Attorney